1st Dance Wedding Songs

For those with 2 left feet!
Find the cheap wedding ideas you are looking for:
1st dance wedding songs are why some bride and grooms spend the year before their wedding learning the moves to a complicated dance number. It is becoming more and more popular to have a 'Come Dancing' routine to wow your guests, or so you could be led to believe if you read the latest wedding magazines.
In my experience very few couples actually know what song they are going to dance to before the day and if you are like me, the proud owner of a husband with 2 left feet then help is needed to find the perfect song for you to shuffle around to. You need the kind of song that is good for swaying to and that everyone knows. They can then join you on the dance floor to sway and shuffle. This way you don't have to cling to each other on an empty dance floor while everyone takes photos. Rabbit in headlights springs to mind!
For those of you that were born to dance, these songs can provide you with the opportunity to strut your stuff and add a few twirls. But you probably already have your 1st dance music lined up and don't need these suggestions!
So, with out further ado, I am proud to announce some of the best songs to shuffle to are;
~ Angels by Robbie Williams
~ Everything I do, I do for You by Bryan Adams
~ You're Beautiful by James Blunt
~ When I Fall in Love by Nat King Cole
~ Amazed by Lonestar
If you find others then drop me a line with your wedding songs!
Or you could go for more of an unexpected song, like Firestarter by The Prodigy!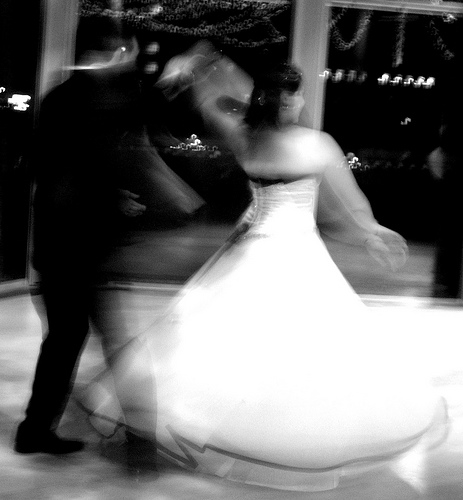 Questions To Ask Your DJ
If you have booked a DJ for your wedding then they are a great place to get help for your 1st dance. They see couples dancing at their weddings most weekends so they will have a really good idea of what works.
If you haven't booked a DJ yet then asking questions about the type of songs they are thinking of playing is really worth it. Especially if you like alternative music that they may not have.
Other questions worth asking are;
Is there a written contract? Make sure you get a contract so you know exactly how long they will be playing, costs, and setup.
Who will be the DJ on the night? If you have decided to go with an agency or a large company for your DJ then find out who your DJ will be. You will want to chat with your DJ before you book them so you know if they are the right kind of DJ for your fun night.
How many weddings have you done this year? And do you have references? The ideal situation would be to see your DJ in action before you book them but remember that you wouldn't want any potential customers turning up at your wedding!
How involved can we be in choosing the music? One groom I met loved his music so much he put together a playlist for the DJ that was over 4 hours long! Don't forget to add in any don't play songs you don't want to hear on your wedding day! You may just have a couple of songs that you want and leave the rest to the DJ. It is all a matter of personal taste.
What happens if you can't make it? Stuff happens but you want to make sure that there is a back up plan if they can't make it. One DJ who worked at the same weddings and functions as me for years, got his dates muddled once and didn't show up for set up. Luckily I had enough time to get hold of him and find out where he was so he could race to the venue just in time. The next week he gave me a cd filled with good starting songs just in case it happened again - thankfully it never did. The cd was in my desk drawer for years!
1st Dance On mp3 Player
Nearly everybody has an mp3 player or access to one and these are a great way to bring music to your reception.
The key to this working well is having a good sound system. This could be the one at the venue if they will let you add your player to their system or one that you hire. Or if you are lucky and know someone with a great sound system then it would be worth asking if they would be happy to lend it to you. Don't be offended if they say no as it is quite likely to be their pride and joy and they may be worried that it will get damaged. 
Ask your venue if they have a company that they use for audio rentals as they will know the venue and what you will need.
If you are hiring the system, make sure you have a contract and technical back up just in case.
---
Photo credit Abulic Monkey
As an Amazon Associate I earn from qualifying purchases.
Other links on this site may lead to other companies that I'm associated with and this is how I can keep this site going and save you money on your wedding. 
Keep Up To Date With All The Latest Wedding Savings
top of page