Cheap Wedding

› Centerpieces
Cheap Wedding Centerpiece Ideas

Find the cheap wedding ideas you are looking for:
Creating or designing a cheap wedding centerpiece is an area where your personality can shine through. Don't feel you have to have a traditional floral arrangement to decorate your tables.
As with all wedding planning the best way to get inexpensive centerpiece ideas is to collect lots of pictures of centerpieces that you like the look of, think about the mood that you want to create and your theme, color or place.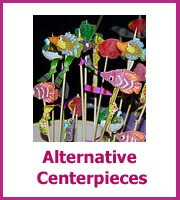 Your centerpiece doesn't have to made with flowers.
Here we have a list of alternatives that look just as stunning.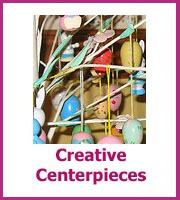 DIY centerpieces will save you a lot of money and they look amazing.
Here are our top tips to help you make yours.
Don't forget to sign up to 
my Cheap Wedding Cents Newsletter 
Cheap Candle Centerpiece Tips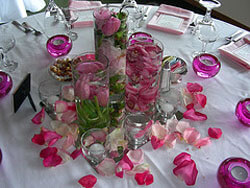 Wine glasses

of different heights with a floating candle also look great, you could then decorate the stems with ivy or ribbon. Try and find floating candles that are a similiar size to the top of the glass otherwise the candles float to the side and look lop-sided. The best wine glasses for this type of centerpiece are going to be those big statement glasses. You will need 3 of different heights for each table to make a centerpiece that will look stunning.
Remember to avoid scented candles during the wedding breakfast as these could detract from the food and wine.
Classic candelabras would add a traditional look and you may find that the venue you are using already has these that you could use at no extra cost.
More Candle Wedding Centerpieces Here!
Cheap Flower Centerpiece Tips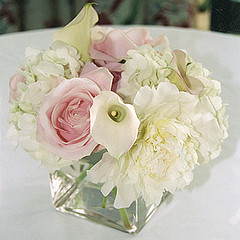 Ideas for a cheap floral centerpiece can be from your florist, think about the size and the season of the flowers. If they know what your budget is they will be able to recommend the best ideas. Plus they have the skills to create stunning displays.
If you decide with your florist on where to spend your budget you will avoid the stress of designing your own.
One way to save money is to source your own vases, I know couples that have saved themselves lots by buying their own rather than renting them through the florist. Plus they are yours after your wedding so you could gift the centerpiece to family or friends. And maybe keep a couple for yourself!
A simple floral idea that you can do yourself with little skill (I should know as my creative flair is not with flowers!) are to buy pots of ivy, cover the pot with material or moss and then add a few small roses, again simple but effective. 
Or you could have a small glass vases and fill them to capacity with your flowers, this is much easier if you have a small vase.
Alternative Cheap Centerpiece Ideas
A sweet centerpiece idea is to use photographs of yourselves either from now or early in your relationship. Each table could be different and you could include pictures of those at the table.
Or you could frame a love poem or a special phrase.
Also would it be worth looking at hiring wedding centerpieces . I took a look for you as there seems to be lots of companies starting up offering a wedding decoration service.

As an Amazon Associate I earn from qualifying purchases.
Other links on this site may lead to other companies that I'm associated with and this is how I can keep this site going and save you money on your wedding. 
Keep Up To Date With All The Latest Wedding Savings
top of page