Home > Centerpieces > Simple
Simple Wedding Centerpieces

Find the cheap wedding ideas you are looking for:
If lack of time, money or creativity is leaving you worried about your table decorations, don't panic as I have put together my favorite simple wedding centerpieces that look great but don't take much to put together.
One thing I would like to mention is that tables at wedding receptions can get really crowded, especially if you have the maximum number of guests at each table, so quite often the centerpieces get lost among all the other bits and pieces. Adding height to your centerpieces will help them stand out a bit more.
My favorite simple centerpiece is the candelabra – I don't think you can beat it for timeless elegance, it also gives height to the table and a bit of sparkle too. Quite often venues will have candle holders that you can borrow for free for each table which would save you loads or make sure you keep looking at places like the Dollar Store as they quite often have candle holders.
You can pretty up candles by adding a colored tulle table runner or by scattering petals or crystals on the table, plus you could have white or your wedding colors for the candles – or maybe even both.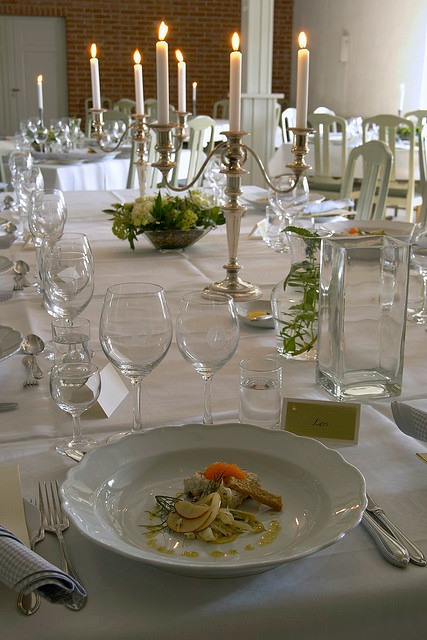 Beautiful wedding tables at Angavellen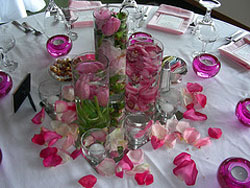 My next really simple and gorgeous centerpiece is the classic 3 cylinder vase and floating candles. It is so easy to put together that you should be able to leave your venue to put it together for you, just make sure you ask about this before the day.
If you have your vases in different heights this will add more interest to the table and you can have all sorts of different items in the base of the vase to add more color to your tables.
colored stones
glass pebbles
submerged flowers
If you want to have flowers on your tables you will need to keep it simple, believe it or not making mason jars filled with flowers look just right is an art and it can take time. So to keep it simple have one tall flower in an Eiffel vase or bottle and if that looks too little add another 2 bottles or vases – for some reason centerpieces look best in odd numbers.
Photo by Nicola
Another simple flower centerpiece is to have all the same flowers in one vase, one trend at the moment is to have baby's breath or gypsum in a Mason jar. You can add extra personalization by tying ribbon or lace around the jar.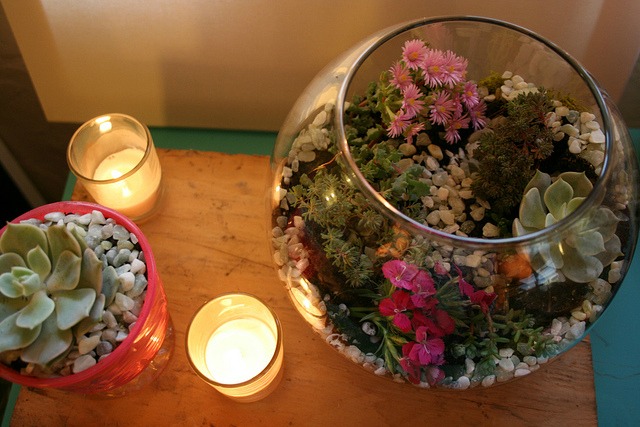 Photo by Vera Devera
Using Succulents or any plants for your centerpieces is also super easy and simple. You literately buy the plant and place it in a nice pot and you are done. Love it!
---
You may also like
As an Amazon Associate I earn from qualifying purchases.
Other links on this site may lead to other companies that I'm associated with and this is how I can keep this site going and save you money on your wedding. 
Keep Up To Date With All The Latest Wedding Savings
top of page