Cheap Wedding

›
Centerpieces
› Inexpensive
Inexpensive Wedding Centerpieces
Find the cheap wedding ideas you are looking for:
Inexpensive wedding centerpieces are even better if they have another use, because not only will they look great they will save you money too!
Favors make very pretty centerpieces, you can pile favor boxes up in the middle or have a basket filled with your guests favors.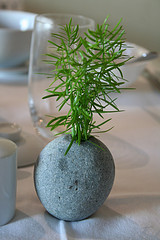 Instead of flowers have plants for your favors, this way you can also use them for gifts for your special guests and those that have helped. You can use any plants just make sure they are not too big as your guests won't be able to see each other, herbs work really well as they also give a great scent to the room and look clean and crisp.
Of course you can still have flowers for your centerpieces and one way to save money is to have jars filled with flowers. You are saving on the cost of the vases and then the flowers don't have to be as formally arranged to look good.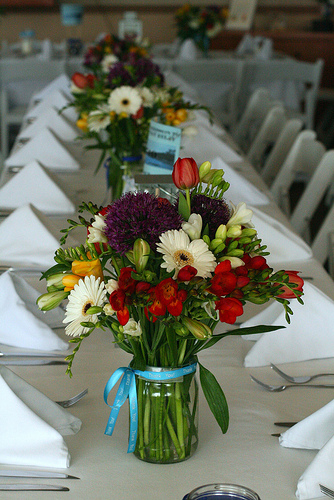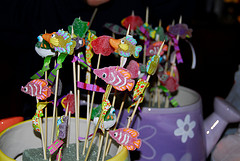 Centerpieces of jars and baskets filled with candy is yummy and your guests will love to dig in, you could have paper bags with your guests' names on for them to fill for their take home favors as well.
Choose candy that matches your colors and look to buy from either a wholesaler or online to get the best price. Look around your local thrift stores to find bargain jars and glass containers. You could even have the table numbers on the jars - that would be a triple use! How about this for a creative candy centerpiece?
Food always works well as a centerpiece, you could have a platter filled with appetizers for your guests to munch, this works really well if you have broken with tradition and are having your speeches at the beginning - your guests won't starve!
You could also have small wedding cakes as your centerpiece, when it comes to cutting the cake you will visit each table! Or you could cut the main cake and then have the couples that you would like to share your day with cut their table's cake. This will make their day!
More Inexpensive Wedding Centerpieces

As an Amazon Associate I earn from qualifying purchases.
Other links on this site may lead to other companies that I'm associated with and this is how I can keep this site going and save you money on your wedding. 
Keep Up To Date With All The Latest Wedding Savings
top of page