Cheap Wedding

›
DIY
How To Make Your Own Wedding Items

Find the cheap wedding ideas you are looking for:
Make your own wedding items can be enough to tip the balance from a sane well organised bride-to-be to one that is stressed to the max! The best way to avoid this is to be honest with yourself on what you are good at and what are your patience levels! Sticking 300 mini bows onto boxes can be very frustrating, if not just plain depressing!
Where do you start?
My way would be to ask all of your friends and relatives if they would mind helping with a few craft projects for your wedding.
Invite them all round for snacks and drinks, the more the merrier! 

Get them involved in your ideas and they will get caught up in the wedding fever. 

What talents do they have? 

Ask and you will be amazed at how many people want to help and be involved.
Invitations are a great place to start to make your own wedding items, you could set up a mini production line in your kitchen, one to stick the bows(don't give me that job!), one in charge of the printer, one to write all of the envelopes - choose the one with the best handwriting - you get the picture, the more helpers the quicker this will get done.
Other great 'make your own wedding items' are favors, I have spent many hours filling favor boxes with chocolate, soaps and gifts, you chat and fill at the same time. Count me in if you need any help!
And don't forget to pull every willing volunteer in to help decorate your wedding venue on the day if you need them!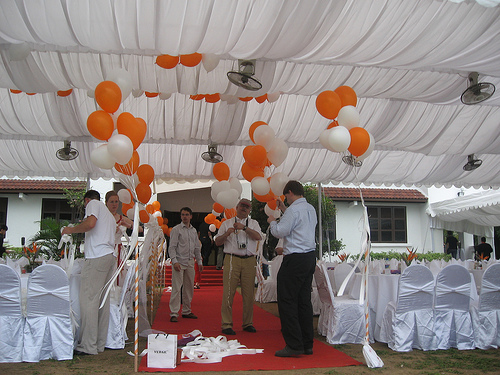 Photo by Selmerv

Flowers are a possible if you have a talent in this area, florists make it look so easy especially when they only use a couple of stems and then tie it artistically. All I will say is have a practice and then another one, and another one ;0) Learn how to create your own wedding flowers using Youtube! 
Make Your Own Wedding Dress

Dresses, well that's your call you are the one wearing it! I wouldn't, but that probably says more about my sewing skills (I once sewed a button on the inside of my husband's shirt and it has been down hill ever since). If you have a gift or know someone who can, then that would be wonderful and what a special beautiful story to add to your wedding day.
Come and share your diy wedding stories and have a read of the successes and failures here. Good luck with your plans and keep an eye on this space as I add new projects. May your double sided tape never run out! ;-)
As an Amazon Associate I earn from qualifying purchases.
Other links on this site may lead to other companies that I'm associated with and this is how I can keep this site going and save you money on your wedding. 
Keep Up To Date With All The Latest Wedding Savings
top of page