Home

›
Make Your Own
› Cheap Centerpieces
Make Your Own Cheap Centerpieces
Find the cheap wedding ideas you are looking for:
Cheap centerpieces are a good way to save money on your wedding decorations but you will also want them to look stunning as well.
If you have a theme for your wedding from colors to your top cities around the world then that is a good place to start as you can use the theme for your table decorations too.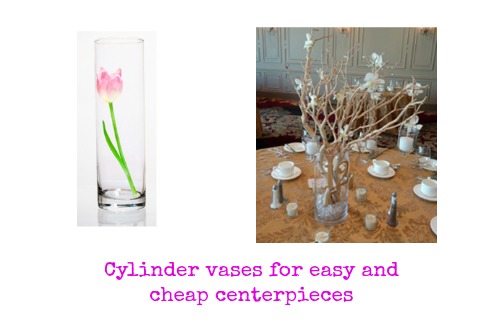 When you think of centerpieces most people think of flowers and they are stunning but they can be insanely expensive. The trick is to use cheap flowers but show them off in a very creative way - don't panic this does not mean award winning flower displays.
One idea is to use a tall cylinder vase - you can pick these up at Target and Walmart, or if you are lucky then your local dollar store and submerge your flower into the vase and then top with a floating candle. If you have the budget then have 3 vases in the center of different heights to create more interest or surround the original vase with candles.
These vases are also great filled with tulips or other in season flowers, and don't forget your bouquet of flowers which you could pop in the vase after the ceremony for your top table centerpiece.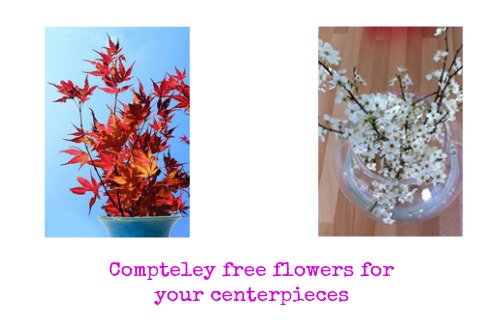 It doesn't just have to be flowers for your centerpieces, instead you could use leaves, this works really well for a fall wedding and you could also use the same idea for a Spring wedding too. Arrange the branches of the trees in an eye popping vase for a great Fall display and for Spring use branches of blossom. Both are simple but really effective.
Candles also make great cheap decorations and if you are holding your wedding at a hotel or function venue it is quite likely that they will have candelabras or other candle holders that you could use for your wedding. You could then scatter rose petals around the candelabras to add more color.
Another way to create cheap centerpieces is to think about the items that you have at home that you could turn into stunning centerpieces. Mason jars and jam jars look great for a summer wedding filled with summer flowers, or you could create this homemade tin can centerpiece if you were having an outdoor wedding that was going on to the evening. One couple just drank a particular brand of water to have the blue bottles for centerpieces, they just had one rose in each bottle and then had them surrounded by glass votives.
You can also find your items for your cheap centerpieces in the great outdoors, another couple used the pebbles from the beach that he proposed in a glass bowl with floating candles it looked very beautiful. Branches from trees make great centerpieces if you secure them in a pot with air drying clay and then spray the branches or hang decorations for your theme.
As an Amazon Associate I earn from qualifying purchases.
Other links on this site may lead to other companies that I'm associated with and this is how I can keep this site going and save you money on your wedding. 
Keep Up To Date With All The Latest Wedding Savings
top of page