Cheap Wedding

›
Christmas
Cheap Christmas Wedding Ideas

From Dresses To Receptions
Find the cheap wedding ideas you are looking for:
Christmas weddings have always been associated with something wonderful, beautiful and blessed as it is such a magical time of year. Think of all the great Christmases you had as a child and then at least double the excitement levels of having a wedding at this time of year! Surely there are a thousand and one Christmas wedding ideas that we could come up with that are inexpensive but not cheap.
Christmas Wedding Dresses
You don't need to spend a fortune on Christmas wedding gowns, after all this is party season and there are bound to be some beautiful party dresses that would be perfect for your wedding dress .
However when you think about a Christmas wedding dress you think of the rich red colors and faux fur wraps and all the sparkle! Have a look for a wedding gown that is on sale. It is possible to get great deals from online bridal stores. Watch out for season sales for big discounts.
Ideas to save money on your Christmas wedding bouquets.
Christmas Wedding Decorations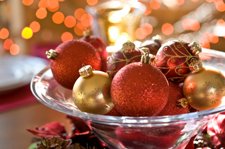 A Christmas wedding naturally saves on decorations as you can definitely take advantage of the season's decorations. Christmas decorations are everywhere during this season. If you plan on a church ceremony, you can just add a sprig of flowers with candles at the pews for added ambiance. Generally, there would be no need for you to decorate the altar and the rest of the church as Christmas decorations are displayed already.
The same is true at the reception hall. A few added Christmas touches might be required say a personalized centerpiece, just to make the Christmas decors more personal. Use red and green as your wedding colors or you can use a base of silver and white then add reds or fuchsias and even oranges in the design.
Have a chat with your venue long before your wedding and ask them what colors they will be using for their decorations and then work those into your own decorations.
Christmas Reception Decoration Tips
One Christmas wedding I planned, the bride did not want the Christmas tree in the room so the venue moved the tree for their wedding day, don't be shy about asking for some reasonable changes to the venue's decorations if they are really not what you want.
If you want a completely different color scheme to the one that they are using then you will probably end up having to do that yourself.
 If you plan on having your wedding towards the end of the Christmas season - after January 1st then the venue probably won't mind their decorations coming down but if you are looking at making big changes to the decorations before that then there may be some extra costs. Make sure you run through everything with the venue so that you know what you are getting.
Invitations
If you can, plan for your Christmas wedding a year in advance. Save on decorations and knick-knacks by taking advantage of after-Christmas sales starting December 26. Consider using blank Christmas cards as wedding invitations. Buy Christmas cards in bulk during sales. Print the ceremony details on a card stock then paste it inside the Christmas card. You can add glitters on the card stock to make it more festive.
Christmas Wedding Centerpieces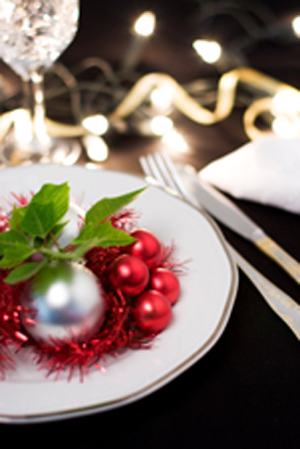 For the reception, there is nothing more romantic and Christmassy as candle decors for a Christmas wedding. Arrange green and red tapers into a base of holly. Add some festive gold ribbons on the arrangement. You can also fill a crystal bowl with different Christmas balls; add some ribbons for a unique Christmas table centerpiece. Another Christmas wedding idea for a centerpiece is miniature wreath with a candle. How festive can you get if you opt for miniature Christmas tree complete with ornaments for centerpiece? Very!
Lots more ideas for decorating for a Christmas wedding.
Again, have a chat with the venue as they will probably be holding lots of Christmas parties at this time of year and they will have table decorations for those, see if you can use them for your wedding centerpieces, obviously have a look at them to make sure you like them!
Christmas Themed Favors

Christmas wedding ideas for wedding favors are plenty! If you are into baking, why not bake fruit cakes for wedding favors. You can also opt to bake Christmas cookies or cupcakes. If you don't have the time or the inclination to bake, Christmas sugar cookies and put them in cellophane or red cloth bags and tie them with Christmas ribbon. Another inexpensive Christmas wedding idea for a giveaway is to give each guest bags of hot chocolate paired with a Christmas mug.
As an Amazon Associate I earn from qualifying purchases.
Other links on this site may lead to other companies that I'm associated with and this is how I can keep this site going and save you money on your wedding. 
Keep Up To Date With All The Latest Wedding Savings
top of page