Cheap Wedding

› Autumn
Cheap Fall Wedding Decorations
Lots Of Autumn Colors
Find the cheap wedding ideas you are looking for:
We have lots of ideas for Cheap Fall Wedding decorations and some are even free!
Fall is a great time of year to get married as you have a ready made back drop of gorgeous colors.
Just think how great that will look in the photos.
Oranges, reds, browns and deep yellows are beautiful warm colors and can be used on all aspects of your wedding from the beginning with your invitations to the end of the night with your favors.
And we have lots of articles to help you save money on all of it...
Cheap Fall Decorations

Cheap Fall Invitations

Decorations for your Fall themed invitations are going to be mainly leaves, berries and nuts.
I know of one couple who collected Autumn leaves the year before their wedding to decorate their invitations. They pressed them at home between lots of sheets of newspapers and although not all of the leaves made it through to the final selection they definitely had enough.
You can also use the images of Fall and create your own designs with computer graphic programs like Photoshop. Here are my instructions on how to create a tree design Fall invitation.
One couple themed their wedding to orange and brown and to save money they used an invitation template already available on Vista Print. They came out really well and the savings they made they were able to also have save the dates, table names and menus all for their budget.
Fall Wedding Cake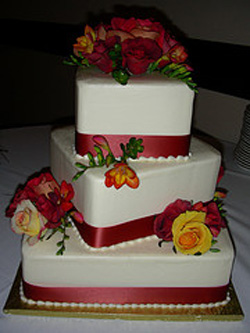 You will want your cake to match your Fall theme and that is fairly easy to do using a store bought white cake and then decorate it yourself.
You could use marzipan leaves or silk leaves.
Or you could use the colors of Fall and have ribbons around the cake, and you could use some of the table decorations you have already used on the reception tables on your cake table.
Fresh or silk flowers in your colors will also look amazing and as you don't need that many the cost won't be too much if you decorate the cake yourself.
Plus you could also have a Halloween wedding cake!
Fall Favors

Use your Fall colors for your favor boxes or bags and then you could fill with colored candy and chocolate.
Soaps, cookies and candles in the shape of Autumn leaves.
Here are some lovely Fall inspired favors that won't break your budget.

As an Amazon Associate I earn from qualifying purchases.
Other links on this site may lead to other companies that I'm associated with and this is how I can keep this site going and save you money on your wedding. 
Keep Up To Date With All The Latest Wedding Savings
top of page