Cheap Wedding

›
Invitation
› Fall
Cheap Fall Wedding Invitation Ideas
Find the cheap wedding ideas you are looking for:
Inspiration for your cheap fall wedding invitation has to come from the stunning display of all the trees in their riot of colours.
All the browns, reds, oranges and golds are so fashionable at the moment and using your imagination you could come up with a great cheap unique wedding invitation.
As well as the more traditional colors you can also add a contemporary twist with chocolate brown and bright pick or aqua.
Shop Cheap Fall Wedding Invitations
A chocolate brown card with an autumn leaf design from any craft shop stuck to the front would look classy and simple. You could write the invitation in gold pen to keep the theme, or another nature inspired idea would be to use an autumn tree as the front.
If you are feeling arty and there is a big old tree at your venue then you could look at using an image of this tree, or even if you are not feeling that arty you could use the image too! Photoshop is your friend if you want to create a cool graphic.
If you are having a fun themed reception then you could have a heart and your initials engraved on a tree trunk and then you have a very personal image, and the best bit is you don't have to make a mark on your favorite tree as photoshop will do that for you and all in the comfort of your own home!
Photoshop Tips To Create Your Own Fall Invite

For those of you interested in creating a tree silhouette on your cheap fall wedding invitation then here is how to make your invite.
Open your image file with the tree image and use your magic wand tool to select the outline of the tree, in the options bar type in a new value of 10 pixels for the tolerance setting and press the return key. Copy the selected image.

Open a new file that you are going to use for your cheap fall wedding invitation and choose a fall colored background to fit with your theme, now paste the tree image into this file.

Keep the image selected and change the color to one that you want, a chocolate brown silhouette looks great on fall colored backgrouond and then select the edit menu - fill - under contents - select the option for 'foreground color' and click ok.

When you are happy with the result and the tree image is in the right place then you can deselect the image and flatten the image by selecting the layer menu and flatten image.
You can use this technique to create all sorts of wedding invitation collages.
Modern abstract cards using the autumn colors are available everywhere at the moment, you could personalize with a black and white photograph of yourselves inside the card. With the fall colors being so popular you can easily find designs that you can use, Basic Invite has a huge choice on colors and they have lots of invitations for less than $1.
Have a look out for larger leaf cut outs in the craft shops and use this as your cheap fall wedding invitation, or you can use leaf punches to create a leaf design on the front. If you are super organized you could harvest lots of fall leaves from the previous year and dry them between sheets of newspaper under heavy books. Make sure you get more leaves than you need as they can become quite brittle and end up breaking.
Keep the design simple as less room for error if you are doing them yourself and will keep the cost down if you have a designer, providing you with an affordable cheap wedding invitation.
Free Printable Fall Wedding Invitation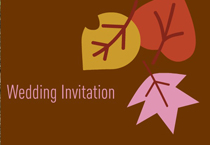 Click on the image above and a free printable pdf of the above invitation will open up for you to save and print at home to create your own invitations.
As an Amazon Associate I earn from qualifying purchases.
Other links on this site may lead to other companies that I'm associated with and this is how I can keep this site going and save you money on your wedding. 
Keep Up To Date With All The Latest Wedding Savings
top of page