Affordable 1920s Wedding Dresses
Find the cheap wedding ideas you are looking for:
The 1920s were a fun time for wedding dresses as they became more free flowing with lace veils, flapper dresses, beads or pearls, feathers and loads of style.
And there was also the very glamorous side of the 1920s, think Great Gatsby style with long figure hugging dresses.
Family 1920s Wedding Dresses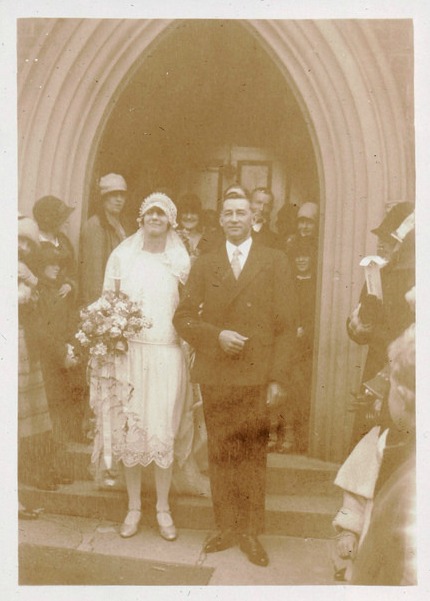 This is the kind of wedding dress that my grandma was married in and maybe your great-grandma? If you are lucky enough to have a family that has kept an original wedding dress from that era and it has been stored well then you could even consider wearing it for your own wedding. If not the whole dress, maybe look at wearing the veil or the jewelry.
Sadly not all of us have a secret store of fabulous dresses but there are still ways to find great 1920s style wedding dresses at a price that is affordable today.
Original dresses can be expensive this is mainly to do with the age and the quality of the dress. If the dress has lasted this long the quality will be stunning. However it is worth remembering that this gown will be around 90 years old so it will have signs of aging. The colors will not be as crisp, ivory dresses that I have seen from this era look almost beige so don't expect a perfectly white dress.
When it comes to buying a secondhand wedding dress there are a few things to look out for.
Vintage 1920s Dresses

If you are looking for original or vintage look at second hand and vintage dress shops, Ebay and even antique stores.
I know it sounds mad that a dress would be among teacups and antique furniture but you would be amazed what you can find in these stores if you haven't been in one for a while. A normal flapper dress from the 1920s will cost less than a 1920s wedding gown, but you are still looking at a least $200, however that is not a bad price for a wedding dress!
Vintage Inspired Dresses

Another way to get 1920s style is to look for dresses that are inspired from that era and thankfully there are quite a few to choose from! You are looking for gowns with beading, or ruffles and to be more authentic the hem length will be just above the ankle. The accessories are just as important and these are long strings of pearls or beads, feathers, lace veils or a headband.
If you looking for a once worn wedding dress inspired from the flapper age have a look for dresses by designers such as;
Peter Langner, 
Alan Hannah, 
Johanna Johnson, 
 and Sue Wong 
are a few that I have come across that are stunning. They are not hugely expensive but you would save money if you found a good second hand one.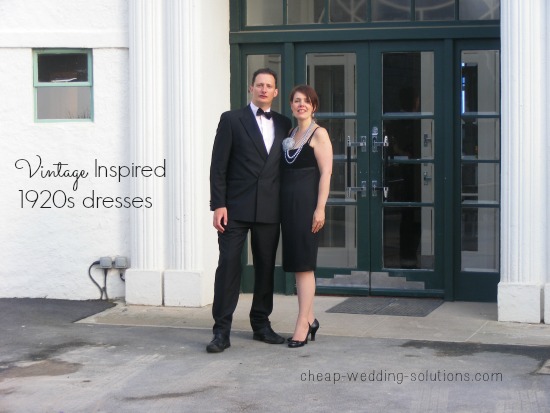 And don't forget to look at department stores for prom and occasion dresses as well as wedding dresses. The photo above is me and my husband at a themed dinner we were lucky to be invited to at Burgh Island. I added long beads and a feather boa to accessorize my outfit. The men were all in black tie.
There are lots of really stunning flapper dresses at , they are not specifically for a wedding but they do have lots on lighter shades and white that would be perfect.
1920s Accessories
It's not just the gown that will make you a 1920s style bride, you need some gorgeous extras too! This was the era of partying and glamor, just think Great Gatsby and classic Poirot.
It will be your hair accessories that will complete the look and an instant 1920s look would be a flapper style hairband. This you may have to make yourself or have a look at Etsy for someone to make one for you. Just think beads and feathers! You could also pin a few long feathers into your hair. For 1920s style hair you will want a short bob, or tight waves and kiss curls pinned at the back, which is where you could attach the feathers.
Your jewelry is Hollywood glamor with long strings of beads or pearls, the same for bracelets and sparkly rings. Look at costume jewelry rather than the real thing to keep the cost down!
More Vintage Inspiration
As an Amazon Associate I earn from qualifying purchases.
Other links on this site may lead to other companies that I'm associated with and this is how I can keep this site going and save you money on your wedding. 
Keep Up To Date With All The Latest Wedding Savings
top of page