Home

›
Jewelry & Accessories
› Tiaras
Cheap Wedding Tiaras From $4.99

Find the cheap wedding ideas you are looking for:
A cheap wedding tiara will help you look like a princess without you spending like a princess.
It is the one day that you will have the chance to wear a tiara, (unless your hen party has bought you a very tacky but essential plastic tiara for your hen night celebrations) and you want to make sure that it looks just right.
How To Find The Perfect Tiara

Firstly have a look around at wedding magazines, bridal shops and at wedding fairs to get an idea of the type of tiara that you are looking for.
You will want it to match your dress so think about the whole package and that includes your veil too.
Are you looking for a more traditional crystal wedding tiara or a more modern wedding headband?
Think about which would look best with your wedding dress and if you can, see if you can try some on. Wedding fairs are a good place to try on lots in one go and then you will be able to compare them and find your perfect one. But don't necessarily buy one there as it might not be the best price that you can get.

Also, make sure you are comfortable wearing it, check that it doesn't dig in and isn't too heavy. You don't want to have a blinding headache on your big day!

Inexpensive Tiaras Online

The real bargains are available online and if you know the exact tiara style that you want, that will help you find a great deal.

Here are some gorgeous ones available at the moment and they are such a good price you could probably have one for your flower girl too!

Top Tips

It is a good idea to look in the bridal shop when you are buying your wedding dress as they may include this in the price for the dress. If you don't ask you don't get! Avoid the shops with the over zealous salesperson as you will end up trying on a variety of tiaras without any price tag.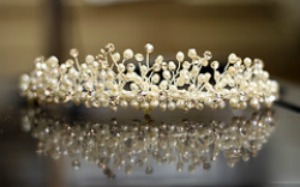 Department stores and everyday accessory shops are a great source for cheap wedding tiaras, make sure you have a look for your bridesmaids or flower girl tiara at the same time - you may be able to get a discount for buying more than one.
Make Your Own Tiara

If you are artistic you could buy a simple tiara and then add extras to the design - making it unique to you.
Even more artistic? Then have a look in hobby and craft shops as they are selling a variety of materials to make your own, there are a large number of resources online and at the shops showing you how to start. Here is a great tutorial on how to make your own sparkly tiara.
Shop around, keep an eye out for sales and don't overlook buying a secondhand tiara as you could end up with a more elaborate piece than your budget would allow.
The cheapest wedding tiara available to you would be to borrow a friends or relatives, always worth asking seems to be turning into my motto but it applies here just as well!
If you want a more informal look then you could have flowers, feathers or sparkling jewels in your hair instead. Have a chat with your hairdresser for suggestions on how to make it look superb.
One wedding trend that is getting more and more popular is to have a wedding headband instead of a tiara. These you can easily decorate yourself with a hot glue gun. They are also a lot more stable than a fascinator on its own as they stay in place. You could also make headbands for all of your bridesmaids which would look great if they are in contrasting colors to your own.
As an Amazon Associate I earn from qualifying purchases.
Other links on this site may lead to other companies that I'm associated with and this is how I can keep this site going and save you money on your wedding. 
Keep Up To Date With All The Latest Wedding Savings
top of page