Cheap Wedding

› Cakes
Cheap Wedding Cake Ideas
Find the cheap wedding ideas you are looking for: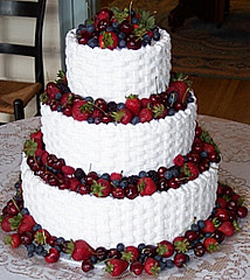 Wedding cakes are expensive because you are paying for the time and skill it takes to make an absolutely stunning display out of cake and icing.
However there are still ways to save money on your wedding cake without it tasting or looking awful.
One wedding I worked at many years ago had a variety of traditional cakes on each layer - it fitted the personality of the bride and groom and the guests were happy as they had a great choice.
Have a simple cake with minimum decoration. Use flowers instead
Have a smaller cake than will serve all of your guests and have a sheet cake to cut later.
Lots more cheap wedding cake ideas in the articles below.
Cheap cake ideas that are fashionable at the moment are;

Tiers of cupcakes , each cake individually decorated. This can work out to be a cheaper option depending on your choice of baker and decorations. I have seen 7 tiers of white chocolate cupcakes which looked stunning. And you can have lots of different flavors to try and please everyone.
A single layered cake.
Store bought wedding cakes that are made to look fabulous.
Store bought birthday cakes.
Top tier made by cake maker and then cupcakes below made by family/friends.
Donut cakes, muffins, cookies, cheese - anything goes.
Not having a cake at all! Seriously, you don't have to have a cake.
Wedding Cupcakes

Money Saving Ideas

Cake Supplies

How To Cake Guides

Tips To Save Money On Your Wedding Cake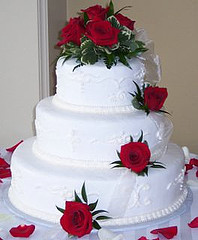 If you have your heart set on a particular style of wedding cake make sure you shop around. Ask the baker for a taste test of their cakes - you want to make sure you are getting the best for your money. Yummy free cakes - let me know if you need any help with the tastings!
You can order a smaller cake for 'show' and then have a sheet cake for cutting. A sheet cake is a big square cake decorated with your color icing, when the cake is cut noone will know it didn't come from the 'real' one. This saves you money as you are paying for less decoration.
If you still want the cake to look like it has several layers then ask the baker if they will decorate a false tier (normally a box or polystyrene)- then you are saving money, but you will still be paying for the decoration which is the most expensive bit as it takes the longest. One of the cheekiest cheap wedding cake ideas is having a secret section within a fake cake that you can cut into making it look like you have the real thing!
There are some bakers that will just decorate the cake for you - that way you can bake the cake either yourself or get a skilled relative to help.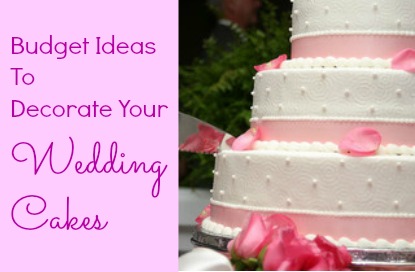 Are there any catering colleges near where you live - it is worth asking if your wedding cake would be a good project for their students? Especially if you ask them to come up with money saving ideas as well!
You could order a plain white wedding cake and then decorate it yourself with fresh flowers or fruit - the flowers would ideally need to be picked on the day. Or use silk flowers and then you can complete your decorations before the day.
Wedding cakes from grocery stores are not to be overlooked, they taste great and save you lots of money. You can then decorate it yourself resulting in a unique and cheap wedding cake!
If you are looking for a cake stand don't forget to ask the venue if they have any - these may end up being included in the price.
The Cake Channel has loads of photos and books to download to help you create your dream wedding cake.

Delicious Cake Recipes have gathered together several delicious cake recipes from all around the world--from chocolate cake recipes, cheesecake recipes, special occassion cake recipes, wedding cakes to ice-cream cake recipes...
As an Amazon Associate I earn from qualifying purchases.
Other links on this site may lead to other companies that I'm associated with and this is how I can keep this site going and save you money on your wedding. 
Keep Up To Date With All The Latest Wedding Savings
top of page