Home

›
Cakes
› Unusual
Unusual Wedding Cakes

Ideas For Your Cheap Wedding Cake
Find the cheap wedding ideas you are looking for:
Unusual wedding cakes are big news, just think about Prince William's biscuit wedding cake choice and you will know that you are in good company. True, they also had an amazing and stunning 8-tier wedding cake decorated with 900 flowers but the cake that caught everyone's imagination has to be the chocolate biscuit cake!
Choosing your favorite cake as your wedding cake makes perfect sense as firstly it will be yummy and it is also a nice way to share something you love with your family and friends that are present at your wedding.
One couple couldn't choose their favorite wedding cake, so they chose instead to have a favorite on a each tier. They had chocolate gateau, Battenburg, lemon drizzle and an iced fruit cake, it might sound bizarre and to be honest it also looked slightly odd as each cake sat looking a bit lost but it is what they wanted and they saved themselves a fortune!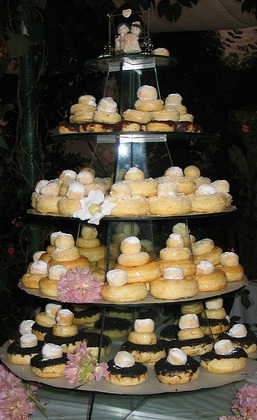 Popular and unusual wedding cakes are ones made of tiers of donuts, again you could save yourself lots and everyone loves a donut and they are super easy to stack! All you would need is a few boxes, maybe with a few spares for tasting purposes! Other ideas that have been used are tiers of cheese cakes with a topping bar so your guests can create their favorite flavors. Or you could go for the slightly more traditional cupcake wedding cakes.
Another growing trend is to have a wedding cake made entirely of cheese! A few specialist cheese suppliers have taken the idea to make wedding cakes entirely of cheese and they look amazing. Plus they cost around the same as a store bought wedding cake, so you are getting a reasonably priced wedding cake but with all the excitement of something truly unique.
Of course not everyone likes the idea of a cake made of cheese, in fact that is some people's idea of a nightmare!
And that is the thing with unusual cakes not everyone will love yours, but the important thing is that you do. Don't be put off having a particular cake because you think that some of your guests won't like it.
An unusual wedding cake to lots of couples is one that is decorated unusually, it could be a stack of suitcases or a couple on a surfboard, these type of wedding cakes normally show the bride and groom's personality but be warned they may not be big cakes and they can cost a fortune if you want something very detailed. To save money on this style of wedding cake have a look at also getting sheet wedding cakesso the wedding cake that everyone sees won't have to be huge.
It might even be cheaper to go on a cake decorating course! You can buy a number of the sugar icing decorations pre-made - no one will ever know.
There are lots of cake decorating tips and equipment to help you make the cake of your dreams.
Check out the wedding cake bits and pieces available on Amazon.
As an Amazon Associate I earn from qualifying purchases.
Other links on this site may lead to other companies that I'm associated with and this is how I can keep this site going and save you money on your wedding. 
Keep Up To Date With All The Latest Wedding Savings
top of page