The Best Cheap Wedding Supplies
Find the cheap wedding ideas you are looking for:
When you are planning your wedding and looking to save money, you need to find good quality items at a fraction of the normal cost.
Here are my favorite Top Ten places to find gorgeous cheap wedding supplies.
Ebay has to be the place to start your search, if you click the link you will be taken to everything wedding! Well worth a look for your wedding dress and accessories and also decorations.
Amazon is another place that you can get nearly everything for your wedding and there are often deals on, especially if you have Prime membership. They are one of the cheapest places for wedding rings I have ever found. (they start at $0.01)
Looking for a cheap wedding dress or gowns for your bridesmaids then one really great place is Milanoo, loads of choice to suit all styles.
One of the best ways to save money for your wedding is to make a lot of the wedding bits yourself, have a look at www.CreateForLess.com for lots of cheap bits and pieces for your craft projects.
And there is also Dollar Tree which has a lot of decorations for ... yep you guessed it a dollar! Plus there is FREE delivery if you order online and have it delivered to your local store.
If you need to decorate your wedding venue then diy wedding supplies from Koyal wholesale has great deals on decorations, disposables and extra wedding stuff.
Flowers are always somewhere at a wedding but they can be expensive, save yourself some money by ordering your flowers wholesale. There are a number of wholesale flower suppliers, one that has nearly every flower imaginable is 

Bunches Direct

Invitations are something that you can make yourself and there are a number of kits that can help you do this, try our own Cheap Wedding Shop for those for those. If you want to have a printed invite then have a look at Basic Invites as they have some fantastic designs for less than $1
Favors are something that are nice to have if your budget allows for it. And if you are looking for great discounts on your favors have a look at My Wedding Favors they are also offering 5% off if you enter coupon code SAVE5 on checkout.
As well as the typical wedding suppliers don't forget to check your local supermarkets for wedding cakes, decorations, gifts and in some even wedding dresses!
Would love to hear about your favorite budget wedding suppliers, leave us a note in the comments section below if you have time! Thank you!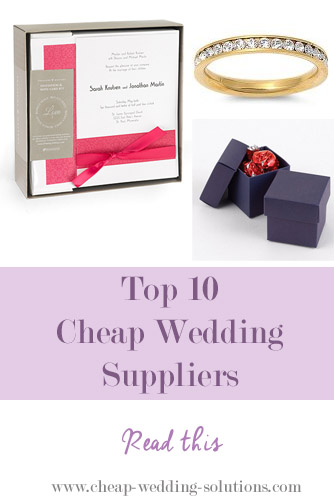 As an Amazon Associate I earn from qualifying purchases.
Other links on this site may lead to other companies that I'm associated with and this is how I can keep this site going and save you money on your wedding. 
Keep Up To Date With All The Latest Wedding Savings
top of page