Home

›
Cakes
› Unique Cakes
Unique Wedding Cake Designs
Find the cheap wedding ideas you are looking for:
Unique wedding cake designs can often mean expensive, as it is the intricate designs and decorations that will cost extra, but there is another way and that is by decorating your wedding cake yourself! Or at least commission your decorations!
Can you imagine a wedding cake topper as unique as you are? In fact it is you, just small enough to make your cake look great!
These designs are brilliant, we love the tattoos and the detail on the flowers, the dress, everything is fab!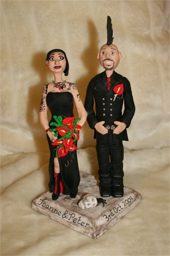 Plus these cake toppers are so different from the generic ones that you find in most wedding and craft stores, and if your style is unique, then you probably want your wedding cake to be unique too!
If you are thinking that you would just love to have yourselves on the top of your wedding cake, then there are a few options.
Plus you will be able to keep the toppers for years to come, how cool would one of these look as your 50th anniversary cake topper!
Of course you now want to see how great this bride and groom looked on their wedding day and here they are.
As an Amazon Associate I earn from qualifying purchases.
Other links on this site may lead to other companies that I'm associated with and this is how I can keep this site going and save you money on your wedding. 
Keep Up To Date With All The Latest Wedding Savings
top of page