Cheap Wedding

›
Cakes
› Styles
Wedding Cake Styles
Find the cheap wedding ideas you are looking for:
Choosing the perfect wedding cake styles is so much harder as there is more and more choice, some wedding cakes are more works of art than something you want to eat, they look so glamorous.

You do not have to stick by any certain rules or tradition and the sky is the limit for whatever you want your cake to look like. If you are seeking a cake that will stand out from all the rest, your cake decorator and you can work closely together on what you want your wedding cake to look like. This will end up being an expensive option, unless you have a very talented friend!





Photo by Miss Creative Cakes
The modernized cakes of today are crossing traditional boundaries in their colors, designs, flavors and styles and you do not have to settle for traditional at all.

If you want a traditional wedding cake, then there are many modern options as well that can change things up a bit and make your cake unique.

You can also opt for a simple but elegant styled wedding cake. A cake today, can portray that of simple design, however you can make it very elegant by using certain hues and colors of frosting, intricate lace decorations and the flavor of the cake itself.

A delicate design on a tiered wedding cake can bring out the look and feel of sheer elegance. Using simple styles to make a wedding cake may help you to pull off a Victorian theme wedding or one that will only call for an intimate setting of close family and friends in attendance.





Photo by kimberly kv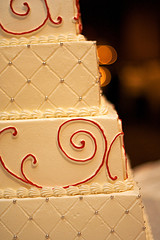 Presently, wedding cakes of today call for styles to be more and more outside the norm. From tiered fondant cakes to ones that have been stacked on top of each another, styles of today consistently challenge cake decorators and the people who order them. You can find that many are opting for tiered individual mini cakes or cupcakes that are arranged like a wedding cake. You do not have to adhere to the regular, cookie cutter wedding cake styles of the past. If you can imagine it, then it can be brought to life.
There are many trends that take cakes to a whole different level of wedding cake bliss and fantasy. Cakes are no longer the plain, layered round shape they have always been in the past. They include disheveled appearances for a touch of whimsy, triangular and box shaped layers of cake that stack on top of each another as gifts. Bold stripes, circles and other shapes are applied to the layers to give them a celebratory feel. Cakes of today are anything but what they used to be, that is for sure.
Decorating Your Own Wedding Cake

Even if you don't have the budget for the wedding cake of your dreams you can personalize a store bought wedding cake and there are lots of cheap wedding cake ideas.
Worth checking out all of the amazing cake decorations on Amazon. There are so many ready made sugar flowers, butterflies, bumblebees and lots of other more unusual designs.
As an Amazon Associate I earn from qualifying purchases.
Other links on this site may lead to other companies that I'm associated with and this is how I can keep this site going and save you money on your wedding. 
Keep Up To Date With All The Latest Wedding Savings
top of page