Home

›
Cakes
› Fondant
Cheap Rolled Fondant Wedding Cakes
Find the cheap wedding ideas you are looking for: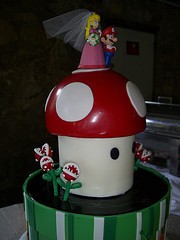 Rolled fondant wedding cakes are fast becoming the most sought after wedding cake for a variety of reasons. First of which is its flexibility.
Every bride has her own vision of a dream wedding as well as a dream wedding cake. It may have a forest theme, a garden theme, Moroccan theme, etc. The vastness of possibilities requires cakes that can answer each and every demand and these wedding cakes do that. You can have the rolled fondant wedding cakes in the shape of ribbon boxes instead of the usual round, square or rectangular ones. Actually, you can shape it in just about any way that would suit your wedding party's theme.
How To Save Money On Your Wedding Cake
Work out exactly how much cake you will need. A 2" x 1" piece per guest would be good and a square cake will mean less wastage, so you won't need as much cake as you would with a round cake.

You could have a smaller cake and then serve your guests

a sheet cake

which will look the same when it is cut.

Keep the designs simple.

Or just order a plain white fondant iced cake - which you could buy from a store (I did this for my wedding) and

decorate it yourself

.
Why Fondant Wedding Cakes Are Great
Plain rolled fondant wedding cakes can be adorned with delicate details such as lace, eyelet designs, ribbons and bows. Details like the mentioned are sure to stand out and make your wedding cake not food for the stomach but also food for the senses. Other possible cake designs utilizing fondant are pearls, flowers (such as roses, orchids, magnolias, etc.), leaves, vines, birds and insects. The versatility of the fondant wedding cake can also be seen in the various finishes available such as matte, shiny, lustrous and glittery. You are only limited by your imagination.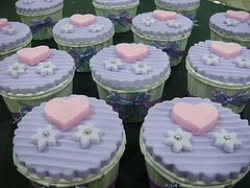 Another reason why rolled fondant wedding cakes are popular is its ability to hold up well in the heat. Unlike butter cream frosting, fondant cakes need not be refrigerated and can be left at a stable room temperature...perfect for outdoor wedding parties. 
The fondant's form is elegant. However, it takes an experienced cake artist to harness its full potential. You may also find that you have to pay a bit extra over its butter cream counterpart. There are also others who find the texture of the frosting chewy and a bit gummy. Another concern raised by the naysayers to fondant is its odd taste. This can be addressed by having the cake in stronger flavors such as cappuccino or raspberry.
If you are going traditional and plan on keeping a tier of the wedding cake stored for a year (to be eaten on your first wedding anniversary), make sure to strip off the fondant icing for proper storage. Fondant does not freeze well – its surface can crack and the whole cake will become soggy.
As an Amazon Associate I earn from qualifying purchases.
Other links on this site may lead to other companies that I'm associated with and this is how I can keep this site going and save you money on your wedding. 
Keep Up To Date With All The Latest Wedding Savings
top of page