Home > Cakes > How To Decorate
How To Decorate A Wedding Cake
Find the cheap wedding ideas you are looking for:
How to decorate a wedding cake without it costing a fortune, is to do it yourself and there are lots of easy but stunning ways to do this.
First, you will need to decide the style of your wedding cake and this is completely up to you, there are no hard and fast rules as to what your cake should look like, or even what it should taste like, apart from delicious of course! If you want a combination cake of chocolate, carrot, and fruit you go for it. If you want your cake to look like a suitcase or even a tiger then again you go for it - the only problem is this will cost more as you will need to hire a professional cake designer.
The type of cakes that will not cost a fortune are fairly traditional, in other words either a classic tiered cake or if you are having a small intimate wedding then one layer would be enough cake for your guests. A good way to work out how much cake you would need is to have 2" x 1" piece of cake per guest, square cakes will feed more as they are easier to cut and portion.

A word of warning when you come to stack any wedding cake make sure you use dowels in the cake, they are plastic rods that will go all the way to the bottom of the cake. This will give your cakes more support and will avoid the cakes sinking into each other on the day. Not a good look!

For a beautiful chocolate wedding cake that is easy to decorate have your tiers of cakes iced with butter cream and then attach chocolate cigarillos all around the edge. The effect is stunning! You could then fill the top of the cakes with chocolate balls, raspberries or flakes of chocolate. Make sure that this cake is kept cool before the reception.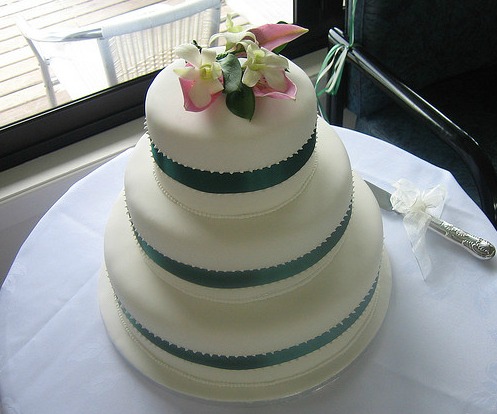 Photo by Amanda Wood
For a classic wedding cake decoration have the cakes iced with ready roll Royal Icing and then attach ribbons around each cake in your wedding colors. They can be attached with a little icing.
For a less traditional look have the ribbons fall from the top tier all the way down the sides, for this alternate different colored ribbons.

Decorate Your Wedding Cake With Flowers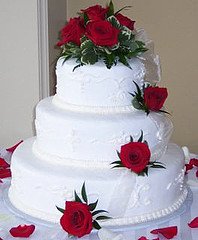 Fresh flowers are a pretty way to decorate a wedding cake and it pulls the table centerpieces and the cake together. You could have a small vase on the top tier with an arrangement of flowers or you could have a small spray of flowers that are either on the top or that cascade down the cake. A single stem that either lays flat on the top of the cake like a daisy works well or you could have a single stem laid on the side.
If you are using flowers on your wedding cake please make sure they are not toxic. The Royal Horticultural Society has put together a list of poisonous flowers and plants. Really worth looking at before you start! You may be surprised that the Calla Lilly is on the list, this is due to the stems of the flowers which some people can be allergic to.
To make sure you have no problems with the flowers you use, check the list and don't stick the stems into the icing on your cake.
You may want to use silk flowers instead to avoid any problems, we did just that and had a small silver vase with silk lemon roses in to decorate our cake. 
When a cake has been iced you could keep you cake fairly plain and add a cake topper to finish the look.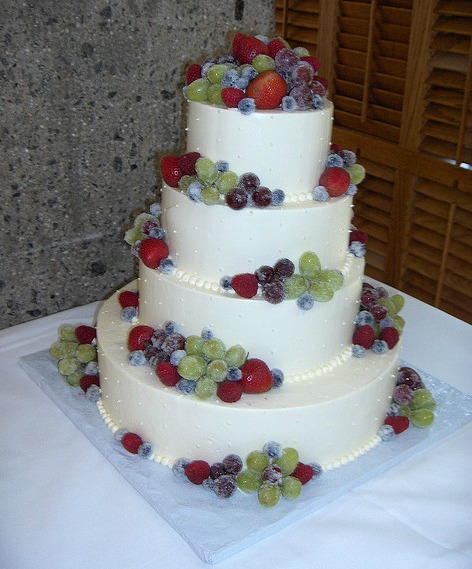 Photo by Joe Shlabotnik
Or you could decorate your cake with fresh fruit. The fruit on this wedding cake has been glazed in sugar, it gives it a lovely sparkle and is easy to do. Take your grapes and other hard fruit, cover in egg white and dip it in sugar. Don't do this with strawberries as they will go mushy and leak red onto your wedding cake.
As an Amazon Associate I earn from qualifying purchases.
Other links on this site may lead to other companies that I'm associated with and this is how I can keep this site going and save you money on your wedding. 
Keep Up To Date With All The Latest Wedding Savings
top of page