Cheap Wedding

›
Cakes
› Chocolate
Chocolate Wedding Cakes

Can Be Cheap - Here Is How
Find the cheap wedding ideas you are looking for:
Chocolate wedding cakes have come of age, they are no longer just quirky but are full on main stream wedding cakes and the great thing for brides today is that there is so much choice!

I remember the first wedding cake made in chocolate I ever saw, it was 16 years ago and it was stunning. Three tiers of chocolate cake and decorated with chocolate flowers, created by a chef friend as his wedding gift.

Sadly not all of us have talented chef friends and chocolate cakes can be even more expensive than traditional wedding cakes as they have to be made much closer to the wedding date otherwise they can become dry.

However there is one big saving with a chocolate cake and that is that you can serve it as your dessert. It would be rude not too!

Photo by Tracy Hunter

Today chocolate cakes are not just reserved for the groom's cake.
A number of brides and grooms choose to have a chocolate cake that is decorated traditionally with fondant icing and others have lots of chocolate cupcakes. These can both be inexpensive ways to have great chocolate wedding cakes.
You could even think of making the cakes yourself and then have a professional decorate them. If that is a bit daunting cheat with an off the shelf cake mix - just remember you may need a few packs!
If your decorating skills are limited there are a number of cheats that you can use.
Homemade Tiered Chocolate Cakes

My favorite and one that I have managed to make myself is to decorate the cake with bought cigarellos or chocolate matchsticks. Start by baking the cake for the tier and when you have sandwiched the two layers together and secured the layers on top of each other, you can cover the whole thing with store bought chocolate frosting, whichever is your favorite!

Next open your packet of cigarillos and carefully stick them all around the outside of each tier leaving no gaps. You can buy them in white, milk and dark chocolate.

You will be left with the top of each layer empty, these you can fill with chocolate shavings or berries or flowers work really well too. The berries will have to be added on the day. Another idea is to fill the tops with chocolate truffels, these you could then serve with coffee.





Image: Wedding Paraphernalia
Homemade Chocolate Wedding Cupcakes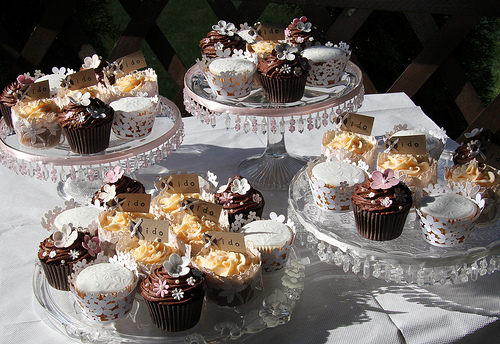 Photo by Jayneycakes

Make your cupcakes as you would do normally and then fill an icing bag with frosting. Starting at the edge of each cupcake you will swirl the frosting to the middle and do this for each cupcake. As a contrast you may want to have alternate colored cupcakes on the display so do half in one color and half in the other.
To decorate you can use cake glitter sprinkled on the top or roll out some fondant and using a craft rubber stamp press the design onto the fondant, cut out and stick onto the top of each cupcake.
You can buy cupcake wrappers which are like a paper cuff that goes around each cake, they are really pretty and can hide some of the icing mistakes! Keep an eye out for sales of these.
As an Amazon Associate I earn from qualifying purchases.
Other links on this site may lead to other companies that I'm associated with and this is how I can keep this site going and save you money on your wedding. 
Keep Up To Date With All The Latest Wedding Savings
top of page