Home

›
Cakes
› Simple
Homemade Simple Wedding Cakes
Find the cheap wedding ideas you are looking for:
Simple wedding cakes are the way to go when you are making your own cake as that will mean there will be less to go wrong. I don't mean to be the voice of doom but you really don't want to add to your stress levels if you are planning your wedding too!
Top 10 Tips For Making Cheap & Simple Wedding Cakes
Start by looking at lots of different cake designs and decide on what you want and what your cake skills are capable of.

Price how much your cake is going to cost you; ingredients, decorations, tools and cake stands. Plus don't forget the practice and also a just encase cake.

You are going to need to practice and lots of it. If you don't fancy decorating real cakes and you want to save money have a look at icing polystyrene boxes instead.

See if you can borrow the baking tins and decorating tools rather than going out and buying lots as this can get expensive.

If you want to have iced flowers or other fancy decorations have a look and see if you can buy them already made.

Plan when you are going to make and decorate your cake. Decorating your cake a couple of days before your wedding will be fine. Just make sure you store it in a cool and dry place.

Ask for help if you need it.

Know how you are going to get your cake to your venue.

Find out if your venue has a a cake stand you an use or see if you can borrow one. It still amazes me the number of weddings that buy their cake stands each year.
Don't forget you will need something to cut your cake with - see if you can borrow this too.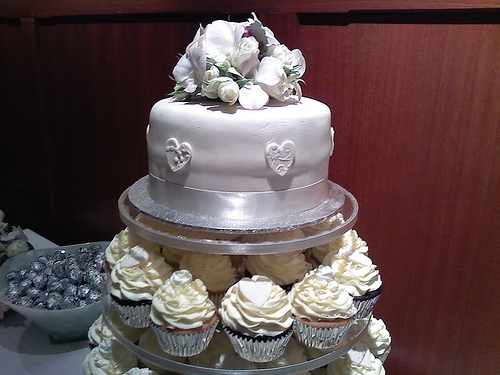 Photo by American Candy Stand Cupcakes (Aust)
One way to keep your wedding cake simple is to have a mixture of cupcakes and a standard size wedding cake. You could then cut the top cake during your reception for your photos.
As an Amazon Associate I earn from qualifying purchases.
Other links on this site may lead to other companies that I'm associated with and this is how I can keep this site going and save you money on your wedding. 
Keep Up To Date With All The Latest Wedding Savings
top of page