Home

›
Cakes
› Wrecks
Cheap Wedding Cakes

What Are The Disasters?
Find the cheap wedding ideas you are looking for:
Cheap wedding cakes can sometimes go wrong and so we thought it would be a good idea to have a chat with Jen from Cake Wrecks to find out how to avoid having a wedding cake disaster!
And if you need some laughs while planning your wedding, pop over to her blog for a chuckle, you will be amazed!
I have to ask, which cake got you started writing about cake wrecks?
My very first post: the Wal-Mart "Under Neat That" cake. My friend Abby e-mailed it to me, and I immediately thought it would be a fun idea for a blog.
Do you get many wedding cake wrecks emailed to you?

I do get quite a few, although not as many as other occasion cakes, of course. Weddings are generally once-in-a-lifetime events, so there are fewer Wedding Wrecks around.
What is the most common wedding cake disaster?
Hmmm. Judging by the e-mails I get from brides, I'd have to say the most common Wreck is the one that doesn't match the inspiration picture. The blame can be two-fold, though: the bride either had the classic "champagne taste on a beer budget", or the baker greatly exaggerated his or her abilities. Usually it's a little of both, actually.
Inspiration v perspiration is my all time favourite wedding cake wreck on your site, which is yours?

For Wedding Wrecks? Yeah, I'd have to say Inspiration vs Perspiration, too - mostly because I still like the line "channeling a bit more Bob Marley than William Wallace". I know it's terribly egotistical, but that still makes me smile.

Have you ever received a wedding cake wreck that your first thought is why would anyone order that?

I don't think I'd ever want to see a cake replica of myself, so that one still baffles me. I also have a photo of a wedding "cake" made out of blue cheese - blech! Usually, though, I love seeing non-traditional wedding cakes. I get a lot of geek cakes submitted - I'm remembering a Hulk wedding cake in particular - that I actually think are super cool. Just call me crazy.
Can you describe your own wedding cake for us?
Hah! Oh, you're hitting below the belt now, aren't you? ;) Well, actually, my wedding cake was a fairly boring grocery store number, but we foolishly asked for the roses to be made of burgundy icing. The resulting color was not so much burgundy as it was a dark mauve - the one color that everyone, no matter what their taste level, is required to despise.
Do you have any tips or advice for our brides to ensure their wedding cake is wreck free?
Absolutely! Two things:
First, do your homework. Don't think that just because you provide a magazine picture any baker can replicate it. Ask for a portfolio and references, and if you're trying to save money by hiring someone less expensive, don't expect the moon. The old adage "you get what you pay for" is often very true.
Second, do NOT pick up or have your cake delivered an hour before the ceremony - or worse yet, have it delivered straight to the reception hall sight unseen. Have a trusted friend or relative inspect the cake before the baker leaves, and if possible, give yourself time for a Plan B if the unthinkable happens and your cake is a first order Wreck. An extra hour or two might allow you to hide the wreckiness under fresh flowers, or even purchase an off the shelf replacement, if it comes to that.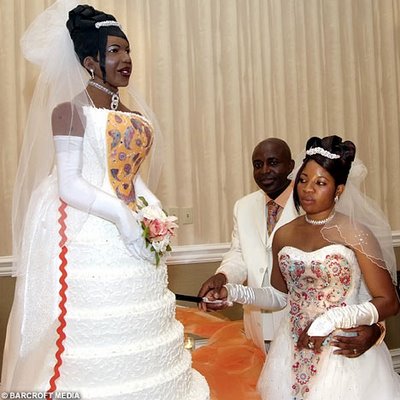 As an Amazon Associate I earn from qualifying purchases.
Other links on this site may lead to other companies that I'm associated with and this is how I can keep this site going and save you money on your wedding. 
Keep Up To Date With All The Latest Wedding Savings
top of page