Cheap Wedding

›
Cakes
› Cheapest
Cheapest Wedding Cakes

Where To Find The Least Expensive Wedding Cakes
Find the cheap wedding ideas you are looking for:
The cheapest wedding cakes often look cheap and just because you don't want to spend a fortune on what is in the end cake and icing, it doesn't mean you have to have a disaster. You know the look cheap artificial flowers and over the top decorations. Here is how to avoid it!
There are a number of places you can find really inexpensive wedding cakes; supermarkets, homemade, make your own and your local bakery.
Grocery Wedding Cakes

Store bought cakes often taste great and look terrible, the key to getting a great cake from Walmarts, Costco and many others is to order a plain white cake or color of your choice. Don't go with their decorations, they don't look great - plus you don't want the same look as everyone else that is buying their wedding cake from there.
Look at decorating your wedding cake yourself and for this you could use fresh or artificial flowers, ribbon and pre-made cake decorations. Top the cake with a great cheap wedding cake topper.
Most stores don't deliver the wedding cakes, best to check if yours does.
My own wedding cake was store bought, we chose a white celebration cake and bought two different sizes and had them as tiers. We had a silver vase filled with lemon colored roses, simple and perfect.
Making Your Own Cake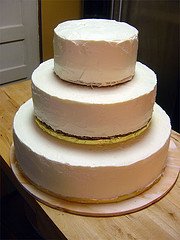 You could also look at making your own cake or if you are not confident ask for help from family and friends. If you have a talented cake maker in your family you could ask if they would be happy to make your wedding cake as their wedding present to you. Offer to buy the ingredients as this will still be a huge saving on buying your own wedding cake. I know of brides that have made their own wedding cake using store bought cake mixes!
If you can't find a willing volunteer amongst your family and friends you could look to your local college and try and find a cake decorating course. You could either enrol yourself or have a chat to the teacher as to whether one of her ex-students would like to decorate your wedding cake. Most recent students will jump at the chance of showing off their new found skills and adding to their porfolio. Make sure you have asked to see examples of their previous work.
Cake Alternatives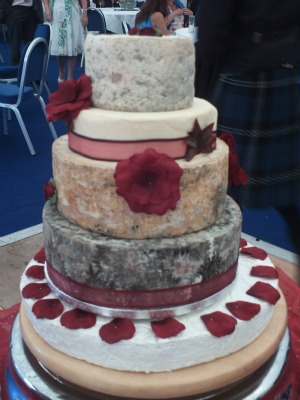 Just because a wedding cake has been always well ... cake it doesn't mean you have to stick with it.
A growing trend is to have something a bit more individual and a bit more you.
Doughnut cakes are big at the moment and I have also seen cakes made with Oreos. The great thing about both is that they are cheap to buy and fairly easy to stack. You may want to make a paper cone for them to rest against so you can make a taller tower.
You can also have cakes made with cheese, fab if you love cheese, which I do but they are not cheap. However you could serve your cake as the cheese course if you were planning on having one.

As an Amazon Associate I earn from qualifying purchases.
Other links on this site may lead to other companies that I'm associated with and this is how I can keep this site going and save you money on your wedding. 
Keep Up To Date With All The Latest Wedding Savings
top of page