Cheap Wedding

›
Cakes
› For Rent
Amazing Wedding Cakes 
Find the cheap wedding ideas you are looking for: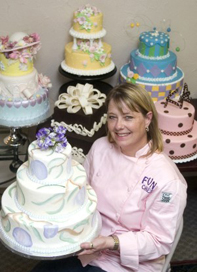 Amazing wedding cakes can cost you a fortune but there is another way and that is to rent your wedding cake!
Kimberly set up Fun Cakes Rental as so many brides were impressed with her beautiful wedding cakes but wanted cheaper wedding cakes.
"I owned a bakery in Europe and then moved to the States, so I went to a bridal show to see if the brides even liked my cakes ( all fondant, no buttercream) and I was planning on opening a bakery BUT the brides kept asking to rent my display cakes from the show. So I thought why not??"

The cakes are made using all the same products as a real cake; fondant, gumpaste, food color, shimmer dust etc.. The only difference is the inside is Styrofoam.

The other clever part is that you can still cut the cake as there is a secret compartment where you can place real cake, giving the illusion that the cake is real.
When you have cut your cake it would normally be taken away to cut for your guests, having a fake cake means that your cake is taken away and your guests would then be served sheet cake - saving you a fortune! No one would ever know that this was not the real thing.
The wedding cakes can be delivered world wide which makes this a great idea for all brides.
Plus cakes from Fun Cakes Rental look stunning.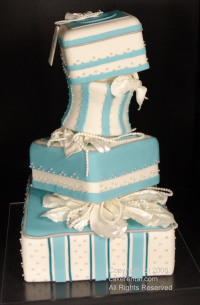 The savings that you can make by having a rental cake depends on where you live and the style of cake that you were choosing. For LA California and New York area, this will probably save the bride well over $2000.00!
You can choose from your cake from the pre-designed section, their most popular one at the moment is all white on white or a white cake with Tiffany Blue. The designs of these cakes are amazing, some look like they defy gravity and there are cakes to suit all tastes from traditional to very contemporary.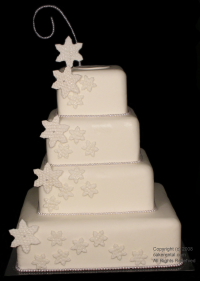 If you can't find your dream wedding cake in the pre-designed section, you can design your own cake, choose your shape and colors and you are away! Kimberly has even made a 38" tall topsy turvy cake, it was named "over the top", it had all 6" tall tiers and was huge!!
To help save even more money on your wedding Kimberly's advice is "You should choose the two or three most important aspects of your wedding and spend your money there, such as location, food, your dress . Then save your money on your cake or any other items that you can rent. I have been told over and over again that my cakes look better than the a real cake and what do you want for your photo's??"
Stunning wedding photos with amazing wedding cakes would definately be one for the album!
More Amazing & Cheap Wedding Cake Ideas
As an Amazon Associate I earn from qualifying purchases.
Other links on this site may lead to other companies that I'm associated with and this is how I can keep this site going and save you money on your wedding. 
Keep Up To Date With All The Latest Wedding Savings
top of page