Cheap Wedding

›
Menus
› Modern
Modern Cheap Wedding Reception Foods

Find the cheap wedding ideas you are looking for:
Modern wedding reception foods, ideas that are cheap to recreate but that still have that mmmm factor!
Feeding your guests at your wedding can be a bit of a worry especially if you know your guests are going to be hungry, in this case a sandwich and a slice of cake are just not going to hit the spot! They are going to want something more substantial and thankfully that does not mean that you have to have a standard 3 course meal.

One great food trend that is popular at functions at the moment is 21st Century comfort food, you know your guests will love it and it is filling as well. There are quite a few dishes that you could serve that wouldn't cost too much to make.
Photo by Istelleinad
Some cheap wedding reception foods ideas would be;
Thai green chicken curry,
 sausage and mash with caramelized onions and rich jus, 
chilli con carne and rice, 
mini fish and chips in paper cones, 
vegetable curry and rice, 
lamb tagine with cous cous (replace the lamb with chickpeas to make it cheaper) 
and even Lancashire hot pot. 
You will know the type of comfort food that your guests will like, and if there is an old family recipe for the dish then you could title the dish accordingly. Ours would be Uncle Brian's chocolate chilli - where the secret ingredient is cocoa powder, yum!
As well as serving the dish you could have the recipe with a sachet of the herbs and spices as your favors as well.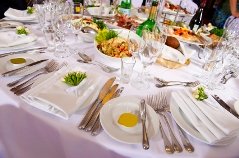 Comfort food as wedding food needs to be displayed and served well otherwise it can end up looking like a school canteen, which is probably not the look you are going for! You may want to have chunks of crusty bread in bowls on each table and then a big pot of each dish for each table so that they can help themselves - family style. This is a great way to get your guests at each table talking to each other - a natural ice-breaker! And if you are catering for your wedding yourselves then this is a much easier way to serve your guests and quicker than a hot buffet where you have to wait for each table to go up and help themselves.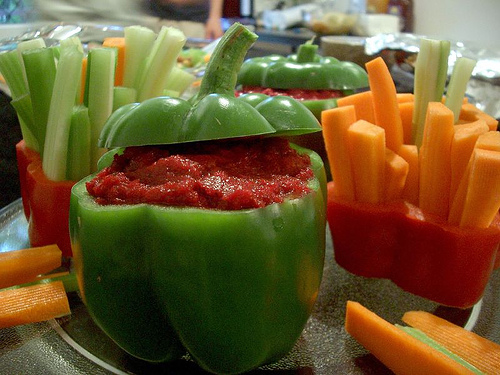 Photo by AVLXYZ
As well as comfort food you could also have a static buffet, which you fill so your guests can stand and graze or grab and run back to the dance floor. Fill the buffet with easy to eat and filling foods.
Cheap wedding reception foods ideas for this style of buffet would be nibbles and dips - crudites with hummus, meze platters, chilli and tortillas. Wraps and bagels filled with all of your favorite things and finger foods such as cheese toasties, salmon goujons, mini pizzas and even hotdogs!
Photo by PSD
If you are having a long evening reception where the dance floor will be busy it might be a good idea to have the food passed round your guests on platters, some at the beginning and then some towards the end to prevent the dancefloor slowing down! Mini burgers - beef or Portobello mushroom, hotdogs with onions and mustard, mini cones of fries and even a bacon butty if you are going on into the early hours!
Wedding reception foods ideas are best coming from the types of food you enjoy with your family and friends, that way you are relaxed and you can enjoy yourself knowing your guests are happy and full!
As an Amazon Associate I earn from qualifying purchases.
Other links on this site may lead to other companies that I'm associated with and this is how I can keep this site going and save you money on your wedding. 
Keep Up To Date With All The Latest Wedding Savings
top of page