Home

›
Wedding Cakes
› Costs
Wedding Cake Cost
And How To Save Money
Find the cheap wedding ideas you are looking for:
Just found out your wedding cake cost? They can be expensive! Thankfully there are ways to have a cheap wedding cake and there are also ways to have your one off creation without it costing a fortune.
Before we get into the details of wedding cake costs, you should know a few things before you start shopping for your dream cake. The most important is how a cake's costs are calculated. When you buy a birthday cake, for example, you are quoted a flat rate based on the size of the cake. But with wedding cakes, the price is quoted per serving. Each serving size is going to be fairly tiny, approximately two cubic inches.
Because per piece pricing makes the prices seem lower, some couples end up picking a cake that ends up being more expensive than they had imagined. Always do the math in your head: the per piece price multiplied by the number of guests, plus a few extra pieces for unexpected guests and vendors who are present at the reception. To give you some idea of the budget you need, the average wedding cake in the United States costs between $500 and $600, including all fees! For cake!
How To Save Money On Your Wedding Cake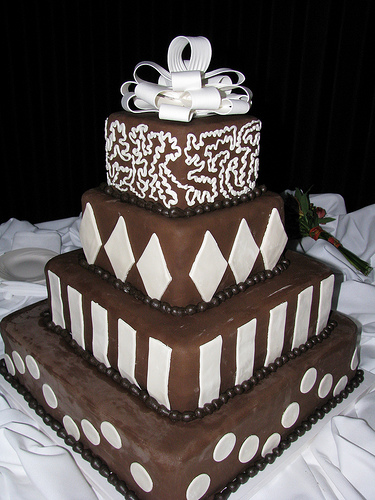 Photo by John Meredith
The per piece price that is the basis of your wedding cake cost is based on several factors.
One of the biggest factors is the complexity of the design. Adding more layers (over just two or three), wanting non-circular shaped tiers, or asking for intricate design work (sugar baskets, tiny pearls, etc.) will all take more labor to create and will increase the price. If you need to keep your costs reasonable, choose something basic: a round three-tiered cake with simple icing decorations. It's classic, beautiful, and affordable.

The other major factors are going to affect the taste of the cake: type of cake, fillings, and icings. Most wedding cakes are made from sponge cake which is the most reasonably priced and the easiest to work with. Cheesecake is also available at some bakers but will cost a great deal more. The cake flavors will also determine price. Most bakers will have some standard flavors – white, chocolate, red velvet – that cost the least. For an extra fee, you can choose carrot, German chocolate, or mocha.

Although not mandatory, more couples are choosing to add fillings to their wedding cake. These also add to the wedding cake cost. Keeping it simple is the key to saving money. Nuts, liqueur-flavored, or crushed fruit fillings are going to increase the per piece price. The icing is also important. You can choose butter cream, fondant, and ganache with butter cream being the cheapest and one of the most common.

Once you've started taste testing, you might find a number of different flavor varieties you love. In that case, you can have different flavored tiers but this option will also cost extra.

While the per piece wedding cake cost will make up the largest part of what you end up paying, your total cost will also include specific fees. When you purchase elaborate cakes, you'll have to pay the vendor a delivery and set-up fee so your cake will be safely brought to the reception site and assembled correctly. This cost alone could be as high as $100.

An optional fee may be charged for cutting the cake. This could be as much as $1 per piece. This is one of the easiest fees to eliminate if you want to save money on your wedding cake cost without sacrificing the flavor or design of the finished product. Having worked at many weddings all that they will do is take the cake away, take off the decorations very carefully and then cut the cake lengthways and then into the smaller pieces. These will then be arranged neatly onto plates or into cake boxes, for the top table the cake decorations will be used to decorate their cake pieces. There is bound to be a few people in your party that would be good at that - saving you a fortune!
As an Amazon Associate I earn from qualifying purchases.
Other links on this site may lead to other companies that I'm associated with and this is how I can keep this site going and save you money on your wedding. 
Keep Up To Date With All The Latest Wedding Savings
top of page