Home

›
Jewelry & Accessories
› Pearl
Cheap Pearl Wedding Jewelry Guide

Find the cheap wedding ideas you are looking for:
Type cheap pearl wedding jewelry into Google and you will have nearly 2 million matches! With that much choice where do you start to make sure you don't get sold a dud?
Firstly know the facts so you know if the description you are reading is really too good to be true.
Natural pearls are very rare and it is completely unlikeley that you will be able to find a natural cheap pearl, and if you do, the seller probably doesn't know what they are selling. Natural pearls are formed when an irritant makes its way into a particular mollusk (oyster, mussel or clam) the irritant will be covered in a fluid by the mollusk as a defense mechanism. More layers will be added until a pearl is formed.
Cultured pearls are your best bet to find a bargain, they are made in the same way as a natural pearl except the irritant is added manually.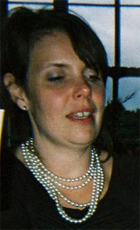 Pearls look great with any type of wedding dress and can also help smarten up many outfits after the big day, so even if you do find you have spent more than you planned they are a great investment. This is me at a recent wedding wearing my pearls, they were my Great Aunt Anne's pearls so I always feel extra special wearing them. See if you can borrrow pearls from a friend or reative as this is a big saving. You could then buy yourself a cheaper bracelet or earrings to match.
A final thought is that it is sometimes better to go with a smaller piece that you can afford rather than reducing the quality and who knows in future anniversaries you may receive the matching earrings and bracelet! Happy dreaming!
As an Amazon Associate I earn from qualifying purchases.
Other links on this site may lead to other companies that I'm associated with and this is how I can keep this site going and save you money on your wedding. 
Keep Up To Date With All The Latest Wedding Savings
top of page