Cheap Wedding › Dress › Secondhand
Second Hand Wedding Dress Guide
Find the cheap wedding ideas you are looking for:
A second hand wedding dress can be stunning and when you think that the dress was probably only worn once then they are a bargain. You have the chance of buying a wedding dress that cost thousands originally and for only a few hundred.
A number of brides realize that selling their wedding dress after their big day is a great way to reduce their overall wedding cost. Some brides will even list their dress for sale before they are married, they do this because they are selling a very fashionable wedding dress, one that is probably still for sale in the boutiques and this way they will be able to get more money. The great thing for you is that even these dresses will be a bargain.
Whenever you look at a once worn wedding dress you need to find out if the dress has been altered and if it has any stains. Grass stains on the hem are classic especially if it was a wet wedding.
If you buy a vintage wedding dress then you may find that the sizing is very different from todays' sizes. Most vintage sizes are smaller but the dress may have been altered.
As with all important dress buying make sure you try on all the wedding dresses before you buy!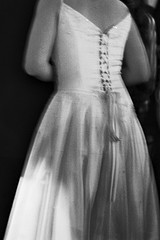 There are lots of second hand wedding dresses available on Ebay, make sure you ask lots of questions if you are unable to try on the dress before you buy. You can search for items on Ebay by location this way you may have more of a chance of trying on the dress.
Craigslist, Gumtree, Vintage Dress Shops, Thrift Stores, Charity Shops and even Freecyle are also great places to find a great second hand dress.
Don't forget to ask friends and relatives if they have a great wedding dress that you would be able to borrow for your wedding. Wearing a family wedding dress adds a beautiful story to your day. Of course you may want to ask to see their wedding photos before you ask if you could borrow the dress, some wedding dress styles are just meant to be left alone!
Good luck finding your perfect second hand wedding dress!
Don't forget to come and join us on our facebook page as we often have great secondhand wedding dresses that are quite often free!
As an Amazon Associate I earn from qualifying purchases.
Other links on this site may lead to other companies that I'm associated with and this is how I can keep this site going and save you money on your wedding. 
Keep Up To Date With All The Latest Wedding Savings
top of page