Home > Accessories > Hair
Cheap Wedding Hair Accessories
Find the cheap wedding ideas you are looking for:
When you start looking for cheap wedding hair accessories you soon realize that this could quite easily cost you more than you want. A glimpse at the displays at the wedding shop and you will soon find yourself with one pinned to your hair and the words "that is perfect for the dress" ringing in your ears. At this moment, well to be honest before this moment is when to say no thank you!

The sad fact is anything with the word wedding attached to it will cost more, to save money you want to start looking in everyday accessory shops, department stores and even craft stores. Think about the style that you want and how you can recreate the look.
If you are planning on wearing a veil then your wedding hair accessories will need to compliment the style of your wedding dress . It could be a tiara or you could look at adding your own style with these ideas, all of which can be worn with or without a veil.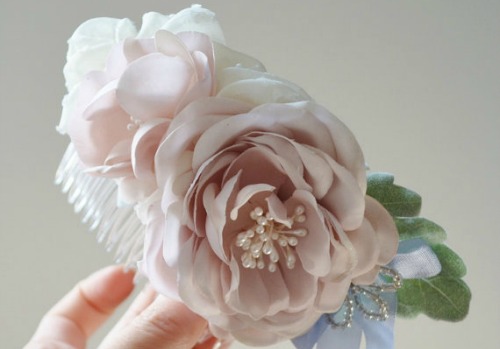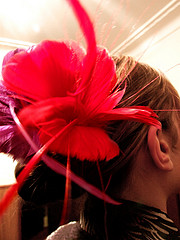 A simple and elegant silk flower pinned in your hair will look stunning or you could have lots of flowers pinned through your hair, as in this example.
Buy your silk flowers from a craft store or home store and these will cost less than buying them as hair accessories. You can attach the silk flowers to hair grips using wire, or secure them direct into your hair.
For my wedding I had a hair clip with silk flowers and ribbons attached, I wore it at the back with my hair piled up.
You can also use real flowers, just make sure you choose hardy flowers to avoid them drooping too much. Speak to your florist to get the best flowers for that time of year. The flowers will need to be wired so that they stay in place and the less handling the better.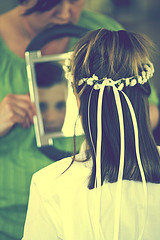 Another cheap but effective idea is to have ribbon tied or woven into your hair, ribbon is not expensive and you will be able to afford lots of different widths to work out the look you like. You can tie them to form a headband or woven into your hair with sparkly hair jewels to hold in place.
A modern hair trend that is perfect for a wedding is a fascinator or wedding hair comb, which is a fun and delicate hair decoration made with flowers, beads or feathers. These look best without a veil as they make a big statement by themselves! They are attached to combs or clips or hairbands.
Keep looking wherever you are shopping, I found some perfect cheap wedding hair accessories in Walmart this week, which goes to show you don't have to spend a fortune to look great for your wedding.
As an Amazon Associate I earn from qualifying purchases.
Other links on this site may lead to other companies that I'm associated with and this is how I can keep this site going and save you money on your wedding. 
Keep Up To Date With All The Latest Wedding Savings
top of page