Home › Jewelry & Accessories › Veils
Beautiful Cheap Bridal Veils

Find the cheap wedding ideas you are looking for:
Cheap bridal veils look great and can save you money. Which is great as I know very few brides that have worn their veil after the ceremony.
Most veils are made from a silky tulle material and you do not have to be a great dressmaker to be able to create something wonderful and flowing. 
Plus the great thing about tulle is that it is fairly cheap and it comes in a range of colors;
popular colors are white or ivory wedding veils,

with red

 and pink available for a touch of color!
If you are not overly confident in creating your own wedding veil then it would probably be best to pass the task on to someone else!
However, as you can see below you can buy wedding veils quite cheaply, which would save you some stress!
Shop Cheap Wedding Veils
If you are more comfortable buying your veil then make sure you shop around, don't be bullied into buying one at the bridal shop at a huge cost. Ask if there are veils that could be included in the cost of your wedding dress and keep your eye out for the sales.
Cheap Wedding Veil Tips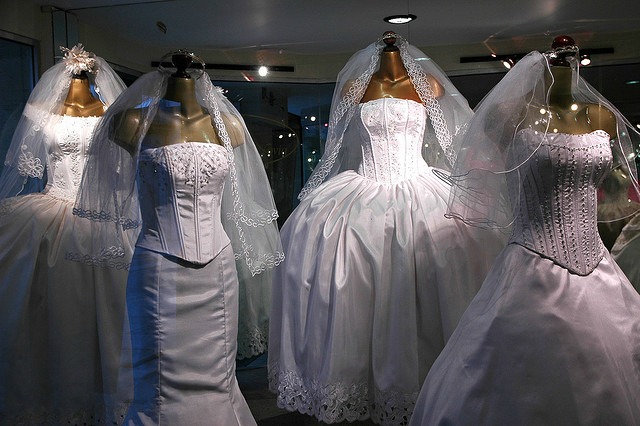 Photo by Wonderlane
When you are designing your cheap wedding veil have a look at magazines to get inspiration and make sure you think about the veil matching your dress.
If you have a long dress then your veil would look best if it was down to your fingers or waist 
And if the dress is shorter then it would look better if your veil was shorter but with layers to add height to the whole look.
Look around for secondhand cheap wedding veils and grab yourself a bargain, just make sure it suits your dress or it has the potential to be altered.

Also ask your friends and family if they still have their wedding veil which you could borrow. 
There is a British custom meant to bring good luck to brides on their wedding day - something old, something new, something borrowed, something new and a sixpence in your shoe. 

How Will You Wear Your Veil?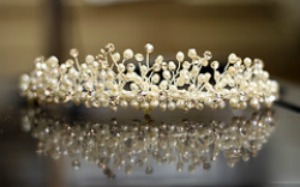 You will need to think about how it is going to be pinned on.
 Are you wearing a tiara? Then your veil can be pinned under the tiara.
If you are not then you could look at flower bands or delicate hair pins. 
As an Amazon Associate I earn from qualifying purchases.
Other links on this site may lead to other companies that I'm associated with and this is how I can keep this site going and save you money on your wedding. 
Keep Up To Date With All The Latest Wedding Savings
top of page