Home > Accessories > Birdcage Veil
How To Make A Birdcage Veil
Find the cheap wedding ideas you are looking for:
How to make a birdcage veil is fairly easy when you know how! But then again most things are!
A birdcage veil is a hot trend for your wedding veil, it brings vintage glamour and is much easier to wear through your wedding day than a classic wedding veil. But if you want to buy one it will cost you in the region of $40 to $70, you could even get one for $700 - it does have silver and crystal. The good thing about making your own is that it will cost you in the region of $20 depending on the accessories you buy for it!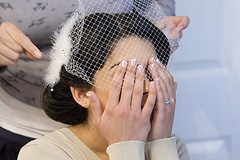 The netting that you need is called russian netting, you can buy different widths depending on the length you want for your veil. For a veil that falls just below your nose you will need approximately 9" width and a length of 20", for a veil that goes to your chin you will need a width of 18". These measurements will need to be checked against your own face as we are all different!
You will also need 2 haircombs, just like the ones below.
Check the size of the netting you will need against your own head, ask a friend to help. You want the netting to go round your face and then attach with the two combs at the back.

Now all you need to do is sew the haircombs to each end of the netting, bunch up the netting so that the combs cover both ends completely. You can use either invisible thread or white thread.

You can now add any decorations that you want, you could sew beads or pearls to the bottom, or have a flower or even an ostrich feather attached to the side. It would be a good idea to have the larger decorations attached to their own seperate clip, that way if you want to remove your veil you can still have the decoration in your hair. 

You will need to fiddle with the veil until it sits just right and for this you will need some extra hair pins to help position the veil and keep it in place. You can buy some very pretty and very cheap hair pins from most accessory shops. 

You can experiment with having the veil at an angle so it just covers one eye, have a play until you are happy.
This style of veil works with both long hair in a bun at the back or with short hair.
If all else fails you can always pick up some great birdcage veils at Ebay, here are their latest!
This style of veil also works really well for your bridesmaids, they could have matching colors and you could all have fun making them together.
As an Amazon Associate I earn from qualifying purchases.
Other links on this site may lead to other companies that I'm associated with and this is how I can keep this site going and save you money on your wedding. 
Keep Up To Date With All The Latest Wedding Savings
top of page