Home > Fall > Table Decorations
Cheap Fall Wedding Table Decorations
Find the cheap wedding ideas you are looking for:
Fall wedding table decorations have a rich range of colors and can fit from a formal wedding to a relaxed wedding and can also be edgy and contemporary. Plus they can be inexpensive!

Starting with traditional fall wedding colors - ivory, rust colors, oranges, reds, browns and chocolate they all have a place in your table decorations or you could choose two or three colors as your starting point. If you are able to hire colored linen this is a great way to add a big amount of color to your reception tables without it costing a fortune as colored linen does not cost that much more than white. Speak with your venue to see if they can organize that for you. You could have one color linen or use two colors and have those on alternate tables.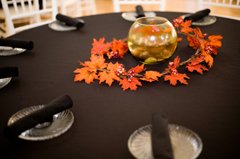 Traditional fall wedding centerpieces normally involve natural pieces, it could be twigs arranged artfully in vases, fall flowers - dahlias, sunflowers, calla lilies and chrysanthemums, silk fall leaves (as natural ones could end up being dry and messy, plus fruit and vegetables, and don't forget the candles.
Contemporary and modern fall weddings are more about color than nature and it is the combination of colors that will make the impact, funky modern color combinations are; brown and yellow, chocolate and sage green, purple and gold, and deep red and orange. Stick with your color combination and decorate your tables and wedding reception venue.
Modern fall wedding table decorations can also use fruit and vegetables. Vases filled with oranges and then a floating candle on the top are simple, stunning and really beautiful. Create more of an impact use different height cylinder vases and then add your other color with a ribbon tied around the the vase.
The classic fall wedding theme is Halloween and that would not be complete with a Jack O'Lantern centerpiece. You don't have to use the traditional scary face but instead have your initials or the wedding date carved into the pumpkin centerpieces.
Another classic for fall wedding table decorations is chocolate and what would be better than having the real thing in your centerpiece? Having lots of chocolate as your favor centerpiece could be better!
As an Amazon Associate I earn from qualifying purchases.
Other links on this site may lead to other companies that I'm associated with and this is how I can keep this site going and save you money on your wedding. 
Keep Up To Date With All The Latest Wedding Savings
top of page