Home > Centerpiece > Pumpkin
Pumpkin Centerpiece
For A Fall Wedding
Find the cheap wedding ideas you are looking for:
I know, you are probably thinking I have gone slightly crazy with the idea that a pumpkin centerpiece could look classy for your fall wedding. But stay with me on this one!
First I want to mention that they are relatively cheap to buy, you can normally find lots of them at this time of year and they come in many colors.
So, you don't have to go with traditional orange, instead you could have white or green. And if those colors aren't for you, you can spray paint them.
A spray painted pumpkin in silver or gold looks awesome.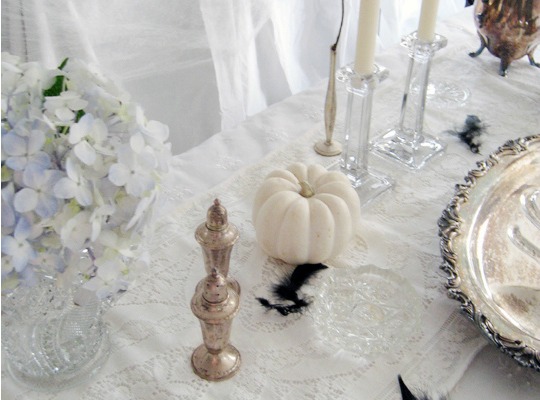 Photo by Maegan Tintari
Carving Your Pumpkin Centerpiece
When anyone thinks of using a pumpkin for a Halloween or fall table decoration you automatically think about a Jack O'Lantern and you couldn't write about pumpkins without mentioning them. Jack O'Lanterns are surprisingly easy to do yourself and they are so effective at night glowing with a candle. A top tip is to use one of those plastic carving kits that you can get at most stores around Halloween.
But you don't just have to go with a traditional face, or something scary. As it's your wedding you could have;
your initials carved in the side, 
your wedding date 
or even the table number.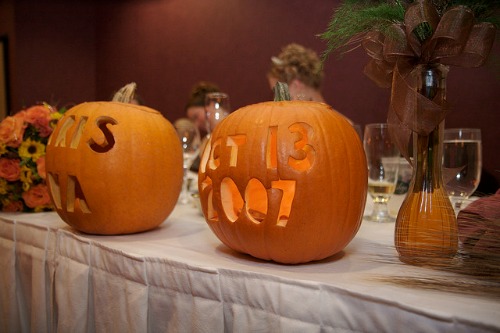 Photo by A Miller
Alternative Pumpkin Centerpiece Ideas
You can also use pumpkins to create a pumpkin vase, hollow out the pumpkin and then arrange dried flowers, not fresh as they would need water and this would rot your pumpkin too quickly.

Or submerge small pumpkins in a vase.

Pumpkin centerpieces do not just have to be carved, you can also leave them whole and arrange them in the middle of the table, you could have decorative gourds, fall leaves or candles surrounding them.
Pumpkins come in lots of different sizes, for a long table you could have a line of small pumpkins along the table with candles between them. Adding pumpkins to a candle or floral centerpiece is a great way to have pumpkins decorating your home or a daytime event.
You can also decorate the pumpkins with ribbons and other embellishments, use pins or thumb tacks to secure the decorations in place.
As an Amazon Associate I earn from qualifying purchases.
Other links on this site may lead to other companies that I'm associated with and this is how I can keep this site going and save you money on your wedding. 
Keep Up To Date With All The Latest Wedding Savings
top of page