Inexpensive Christmas Wedding Favors
Find the cheap wedding ideas you are looking for:
If your wedding is set over Christmas, you will definitely save some time, money and effort on your wedding day's decorations.
There is an endless list of possible Christmas wedding favors for your Christmas wedding. There are expensive and budget ones and your choice depends on your budget, or your budget depends on your choice! If you can, plan your wedding way ahead of time. You can buy cheap Christmas wedding decorations and favors on clearance sales in January.
Here are some inexpensive yet fittingly attractive Christmas favors.
Shop Christmas Wedding Favors
Christmas Baubles
Buy some colored glass Christmas ball ornaments. A 2-inch diameter glass ball decoration will do. Make sure each ball has its own ornament hook. If you are expecting 100 guests, make at least 110 pieces ball ornaments. The idea is to decorate each Christmas ball as wedding favors. You need several glitter glue pen in various colors to decorate the balls. Take one Christmas ball and glitter glue pen the draw spirals or stars, snowflakes, Christmas trees and other winter design on the ball ornament. Attach the hook and hang the ornament and let dry. Be creative with the colors. Use gold glitters on red balls. Silver glitter on midnight blue balls, and so on. Add your names on the ball, including the date of your wedding in numerals, or write the name of each guest onto the Christmas balls and you can then use them as place cards as well!
Christmas Brownies
If you are handy in the kitchen bake some brownie for a hand-decorated brownie balls. Mix icings of different colors - green, red, pink, white and light blue. Prepare melted chocolate. Have some edible glitters ready. Here's what you should do. Make brownie balls. Dip each ball in melted chocolate. Let it harden before icing it. Decorate the iced brownie ball with the edible glitters or gum paste Christmas shapes. When it is done, wrap each Holiday Dipped Brownie in clear cellophane and close with a ribbon.
Christmas Gingerbread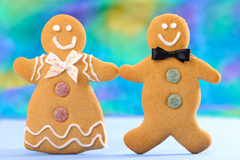 A personal favorite at Christmas time is gingerbread and how about a cute bride and groom in gingerbread for your Christmas wedding favors for each guest? Or you could have a wife at the ladies place and a groom at the mens. For the children you could have plain gingerbread men and women that they can decorate themselves. You could have a table with icing and mini candies for the children to use, it would keep them quiet during the speeches!
Christmas Gift Boxes
If you are not into personally hand-made Christmas wedding favor, you can settle for Christmas boxes filled with truffles and any other chocolate candy that you prefer. You can order kits of holiday boxes in matte gold, burgundy or matte silver. The kit contains pre-cut taffeta ribbons to wrap around the box. Assemble the box, fill it up with chocolate candies and tie it with the ribbons. Attach a small piece of card with your names and date of the wedding. You can also give boxed cupcakes for Christmas wedding favor.
Christmas Candies
Get some personalized 4 ounce-capacity mason jars measuring about 3 1/4" tall x 2 1/2" wide with a removable screw-on silver cap. Print on a stick on label that will fit the jar's cap with your names and the date of your wedding. Stick the personalized label on the cap and then fill the jar with colorful Christmas candies.
Or a candy cane with a hand-tied label with thank you for sharing our special day tied to it would also make Christmas wedding favors that wouldn't cost a fortune.
There are plenty of budget-wise Christmas wedding favors. Get creative!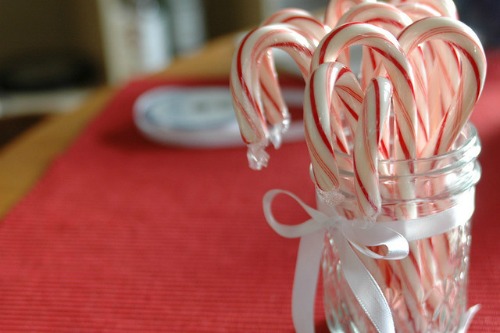 Photo by Bec Capie
As an Amazon Associate I earn from qualifying purchases.
Other links on this site may lead to other companies that I'm associated with and this is how I can keep this site going and save you money on your wedding. 
Keep Up To Date With All The Latest Wedding Savings
top of page