Cheap Wedding

›
Make Your Own Decorations
› Christmas
Decorating For A Christmas Wedding

Lots Of Cheap Wedding Decoration Ideas
Find the cheap wedding ideas you are looking for:
Decorating for a Christmas wedding starts with thinking about everything you love about Christmas; holly and ivy, gingerbread cookies, fairy lights, and everything that is magical about that time of year.
A good way to save money is to find free decorating items and holly, berries and ivy are all easy to get hold of around Christmas. Wrap the ivy round pillar candles, have it trailing off the top table or use it as part of your floral centerpiece. Bulk out your displays with holly, try and find pieces with lots of berries, just keep them out of reach of small hands.
You can also decorate fir cones and branches with glitter for a sparkly Christmas wedding centerpiece. For a modern look pile up the cones into a glass vase with Christmas baubles.
Another free decoration is to use family Christmas decorations, vintage Christmas baubles look stunning piled into glass vases and then lit with fairy lights. You can also find lots of cheap Christmas items in thrift stores and of course in the sales straight after Christmas.
Sharing your Christmas memories is another sweet way to bring the festive spirit into your celebrations. Framed photos in your pyjamas surrounded by wrapping paper or dressed as Mary or a sheep in the school nativity play would be fun.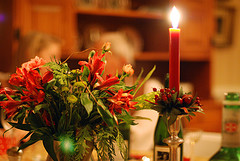 Mini Christmas trees add to your theme, you could have them as centerpieces or dotted around the room.
Decorating for a Christmas wedding with the colors of Christmas is a more subtle approach, deep reds, dark greens or sparkly silvers for a winter wonderland. Use bows in these colors to decorate the ends of the pews and have colored candles or colored glass as your centerpiece.
Love these Amarylis lined up along the table and at this time of year they are relatively cheap and easy to grow. You can buy them as bulbs and then plant them into individual pots. They take 6 to 8 weeks to grow. If you can afford it maybe look at buying more than you need incase some don't bloom when you want them to! To make them even more Christmassy you could look at adding decorations to the pots.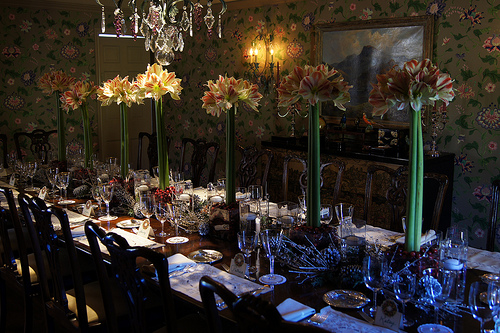 Photo by Patrick Denker
Poinsettias are also perfect for Christmas weddings, you could have them lined up along the aisle and then whisked away to be the centerpieces for your tables.  At the end of the night they can be beautiful gifts for your guests.
If you have areas of the room that you want to hide think about draping tulle and adding fairy lights to give it a magical glow.
As an Amazon Associate I earn from qualifying purchases.
Other links on this site may lead to other companies that I'm associated with and this is how I can keep this site going and save you money on your wedding. 
Keep Up To Date With All The Latest Wedding Savings
top of page