Home

›
Make Your Own
› Corsage
How To Make A Wedding Corsage
Find the cheap wedding ideas you are looking for:
Making your own wedding corsage is a beautiful way to keep your costs down, you could have all of your bridesmaids wearing them on their wrists and your Moms wearing them pinned to their outfits.
If you use silk flowers for your corsage you will be able to make them before the wedding, if you are using fresh flowers then buy the best you can afford the day before and keep in the fridge until you are ready to create! To ensure the flowers are at their best when you come to use them make sure they have had enough water! Cut the end of the stems and place them in tepid water at least 3 hours before you are going to create with them.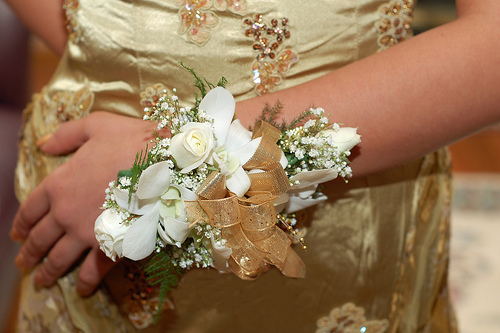 Photo by Stephanie Wallace
Easy Steps On How To Make A wedding Corsage
Choose your flowers, most corsages are with an odd number of flowers but create little bunches of 3 flowers if you want a large corsage rather than trying to make one big corsage from the start. It is easier if you put your big flowers at the bottom. Tape your flowers together using 

Floral or Stem Wrap

 - green is the best choice.

If you want your flowers to be more flexible then insert florist wire into the flower and stem, this will help the flowers bend the way you want them to!

Fill any gaps with baby's breath, foliage, jewels, bows etc and then tape altogether.

Cut any stems if needed.

Wrap 

Ribbon 

 around the base of the corsage to pin or wear on your wrist.
To keep your corsages looking beautiful once they are made pop them into a plastic bag and put them in the fridge.
Corsages are now becoming more popular for brides to wear! They save you a fortune on a traditional wedding bouquet and they can be tied to your wrist so you don't damage your wedding dress. Another plus factor for wearing a corsage as a bride is that you don't have that awkward moment when you don't know what to do with your bouquet!
And your corsage doesn't have to be with lots of flowers, you could instead use just one big flower instead.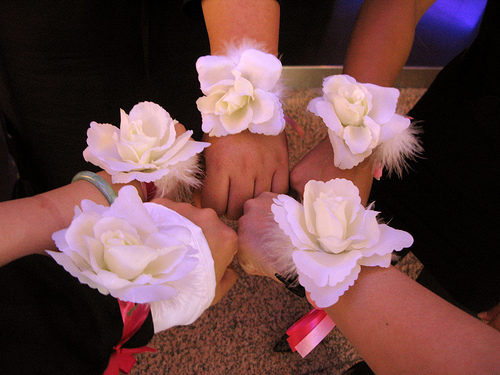 Photo by Marsha M
As an Amazon Associate I earn from qualifying purchases.
Other links on this site may lead to other companies that I'm associated with and this is how I can keep this site going and save you money on your wedding. 
Keep Up To Date With All The Latest Wedding Savings
top of page