Home

›
Make Your Own
› Wedding Money Tree
How To Make A Wedding Money Tree In Easy Steps
Find the cheap wedding ideas you are looking for:
Having a wedding money tree at your wedding is a cute place for your guests to leave their gifts which I am guessing you have asked for as money. Other ideas could be a wedding card box or a wishing well.
Asking your guests for money is probably harder than making a money tree, because it feels awkward, but don't feel awkward because cash is much easier for a guest than going shopping finding the gift you may want.
Money Tree Supplies
How to make a wedding money tree for your wedding table is quite easy. You will need
Find a tree like branch, one with lots of branches off it, the size of the branch will depend on the size of your wedding. We are not talking tree size as you will probably display your money tree on your wedding table.
It is a nice idea to have a wedding table for your presents, wedding card box and your wedding money tree. This way your guests will know where to put their gifts.
How To Make A wedding Money Tree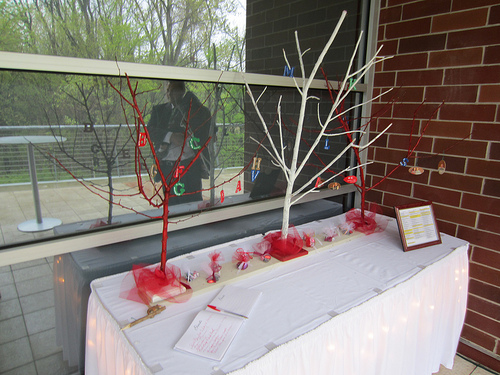 Photo by AKeg
Start by spraying your branch the color you want silver, or white or gold are popular. 

When it is dry you will need to secure the branch into your pot using air drying clay, I have found putting stones at the bottom of the pot helps weigh the whole money treedown, put the clay on top. Leave the clay to dry before doing anything else!

Think about how you would like to decorate the pot - you can cover in material, glue moss to the outside for a more natural look or just place the pot in another more decorative one.

Next you will need to decorate your tree, you can do this by wrapping ribbon around the branches, if your wedding has a theme then you may want to add these items to your tree as well. Use the color ribbon that fits with your wedding and leave gaps so that you can see the branches.

The final part is to attach the mini pegs or paper clips, you may need to secure these with craft wire if your branches are quite thick.
It would be a good idea to send a note with your wedding invitations that you are having a money tree.
You may need to have a sign by the money tree so that everyone knows what it is! Here is one idea,
For adding to our Money Tree,
we'd like to thank from our heart
Also just for being here
when our marriage starts.
These craft trees also look great as centerpieces and instead of money you could have Easter eggs, baubles, and mini lanterns.
I have even seen life size trees made in the same way apart from everything is bigger! Use a big branch and cement to secure the branch into a big pot. I have seen weddings where an avenue of these trees have been used to hide an ugly area of the reception room. With the big trees you can hang fairy lights, LED lights, lanterns. Just go careful and make sure the tree is well balanced and that there are not lots of young children running around.
LED Wedding Tree
If you don't fancy making your own tree you could have an LED tree instead. They are relatively inexpensive and if you compared them to the cost of making your own there is not much in it.
Plus they look great at night too!
Money Tree Centerpiece
A money tree centerpiece is a fairly unique wedding centerpiece but it makes so much sense! Most couples have either lived together or had their own place before they are married so money gifts rather than a regular wedding list is very useful!

Quite often a money tree will be on the gift table so your guests can attach their money gifts but a cute idea is to have one money tree centerpiece at each of your guests' tables. That way it is much more interactive! Don't panic if you think that it is too much and looks greedy because it is going to be made into a very lovely centerpiece.
First make your money tree following the instructions, you may want to have color coordinated pots for the trees to sit in, or wrap ribbons around the branches in your colors. Make your money tree centerpiece a stunning centerpiece without any money on it as that looks greedy!
Next at each of your guests' place settings you can have a note thanking your guests for joining you on your special day and asking for them to share their wisdom and wishes for a happy marriage by writing it on the envelope attached and tying it to the wishing tree, and if they want to they can place their wedding gift in the envelope too. These notes of wisdom are a great keep-sake from your wedding and quite often have some fantastic advice, plus they get everyone chatting to each other.
Use the mini envelopes and attach a ribbon or clip to one end to make it easy for your guests to attach them. If you have younger guests then you could have coloring pencils for them to draw you a beautiful picture on their envelope - it keeps them busy which is good!
You may find that a number of your guests will have put money in a card or will have cards with them that they will want to give, here is a cute wedding card box idea.
Have fun being creative!
As an Amazon Associate I earn from qualifying purchases.
Other links on this site may lead to other companies that I'm associated with and this is how I can keep this site going and save you money on your wedding. 
Keep Up To Date With All The Latest Wedding Savings
top of page