Cheap Wedding

›
Make Your Own
› Programs
Cheap Wedding Programs

Find the cheap wedding ideas you are looking for:
Cheap wedding programs are easy to put together if you have access to a computer and a printer. However you don't have to have a wedding program, and there is definately no right or wrong way to write them! If money is tight and you are looking for ways to cut back without anyone noticing then this is a good place - don't have any programs!
However, wedding programs are great if you have a lot of guests and especially if your guests are not familiar with your customs. You can put the order of events, members of the bridal party and all your thank yous, you could even explain different aspects of your wedding. Think of it as a guide to your wedding.
Ways To Save Money

The size of your programs will depend on the amount of information you put into them. Some cheap wedding programs will just be a single card with the order of the ceremony on one side and your thank yous on the back. There are some great examples on Martha Stewart Weddings.
You now need to put your layout together, try and keep it all to a single page as this will mean you won't need to pay extra to bind the pages together or have ribbons tying them together.
A single sheet can be folded vertically and horizontally, use this as the basis of your design.
If you want more pages for your program, keep it simple, you could have colored card for the cover and then use a hole punch and ribbon to tie all the pages together.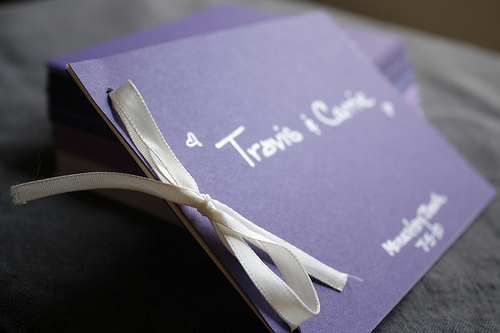 Photo by t.ramod


Program Wording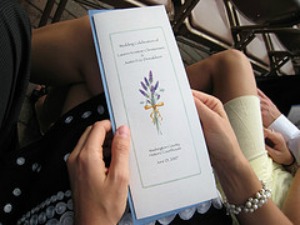 The front will have your names, dates and location as this will be a special keepsake for you and your guests.
Page 1 can have the order of the ceremony and the readings.
Page 2 and the back page could have your bridal party, your thank yous or details about your traditions.
Your wedding programs don't have to be traditional in their wording, there is no right or wrong way to do this. If you are having a fun and alternative wedding then your wedding programs can reflect that if you want them to.
The above is how to make simple cheap wedding programs, make them more you by adding some extra decorations; it could be a photo of the two of you, the design from your invitations, a hand drawn design , buttons, ribbons - really anything goes!
Where To Find Cheap Wedding Programs
Your cheap wedding program can come from the stationer printing your invites, to get the best deal try to have them included in the original price, use it as a negotiating tool for them to gain your order.
The cheapest way is to design them yourself, there are a number of online tools or you could use a simple word program to design them. Printing them yourselves will also keep the cost down.
Rather than having the typical booklet style program why not have a single sheet, you could use more expensive looking paper as you would be saving on the cover. You could then roll the programs up and tie with a ribbon in your wedding colors to look like scrolls.
Or you could have a look at how to make wedding program fans.
If you have an artistic friend or relative you could have them design the cover. My father in law drew the church for my sister in law's wedding program in pen and ink, they ended up using the design for their wedding invitations as well.
If you don't fancy making your own, take a look at some of my favorite wedding programs...
As an Amazon Associate I earn from qualifying purchases.
Other links on this site may lead to other companies that I'm associated with and this is how I can keep this site going and save you money on your wedding. 
Keep Up To Date With All The Latest Wedding Savings
top of page