Cheap Wedding

›
Centerpieces
› Fruit
Cheap Fruit Wedding Centerpiece Ideas
Find the cheap wedding ideas you are looking for:
Fruit wedding centerpiece ideas look stunning and they are easy and fairly cheap to create.
You couldn't ask for more when it comes to designing your own wedding centerpiece!
Fruit Centerpiece In A Vase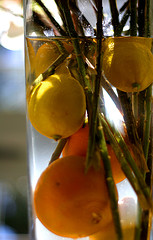 The simplest fruit display that is easy to transport is to fill a glass vase with fruit. If you have round tables you may want a cluster of different height vases, or have a round vase. If your tables are long then have the vases in singles and place them along the table.
It is best to choose fruit that won't go mushy,
citrus fruits excel at looking gorgeous throughout the reception; 
lemons, 
limes, 
oranges, 
satsumas - you get the idea!
To add a touch of glamour to the above display you can tie a ribbon in your wedding color around the middle of the vase - use glue dots to keep the ribbon where you want it and then tie in a bow.
If your reception is in the evening then you could jam the fruit into the vase, fill it with water and then place a floating candle on the top.
It is a good idea to have the candle the same size as the top of the vase, otherwise they have a tendency to float to one side. You could always have your fruit wedding centerpiece as the first example and then have glass votive around the table.
Great places to find cheap cylinder vases are:
Amazon - takes you straight to the best deals on cylinder vase sets and they have the cheapest sets
Koyal Wholesale - the more you buy, the better the price
Ebay - look out for secondhand ones to save even more money
Also check out your local facebook groups and craigslist to see if any local brides are selling any,
When you are comparing prices for cylinder vases double check the sizes of the vases in the sets as the cheaper deals can quite often be because the vases are smaller.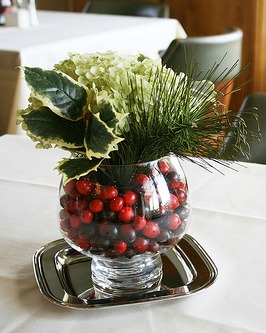 Photo by Kit Katherine
Cranberries are another fruit that doesn't go mushy and are great for a wedding near to thanksgiving or Christmas.
Not only do they look good at that time of year, they are easy fairly cheap as well!
Fill a vase with cranberries and then add some water, you could then have floating candles on the top or flowers.
You will need...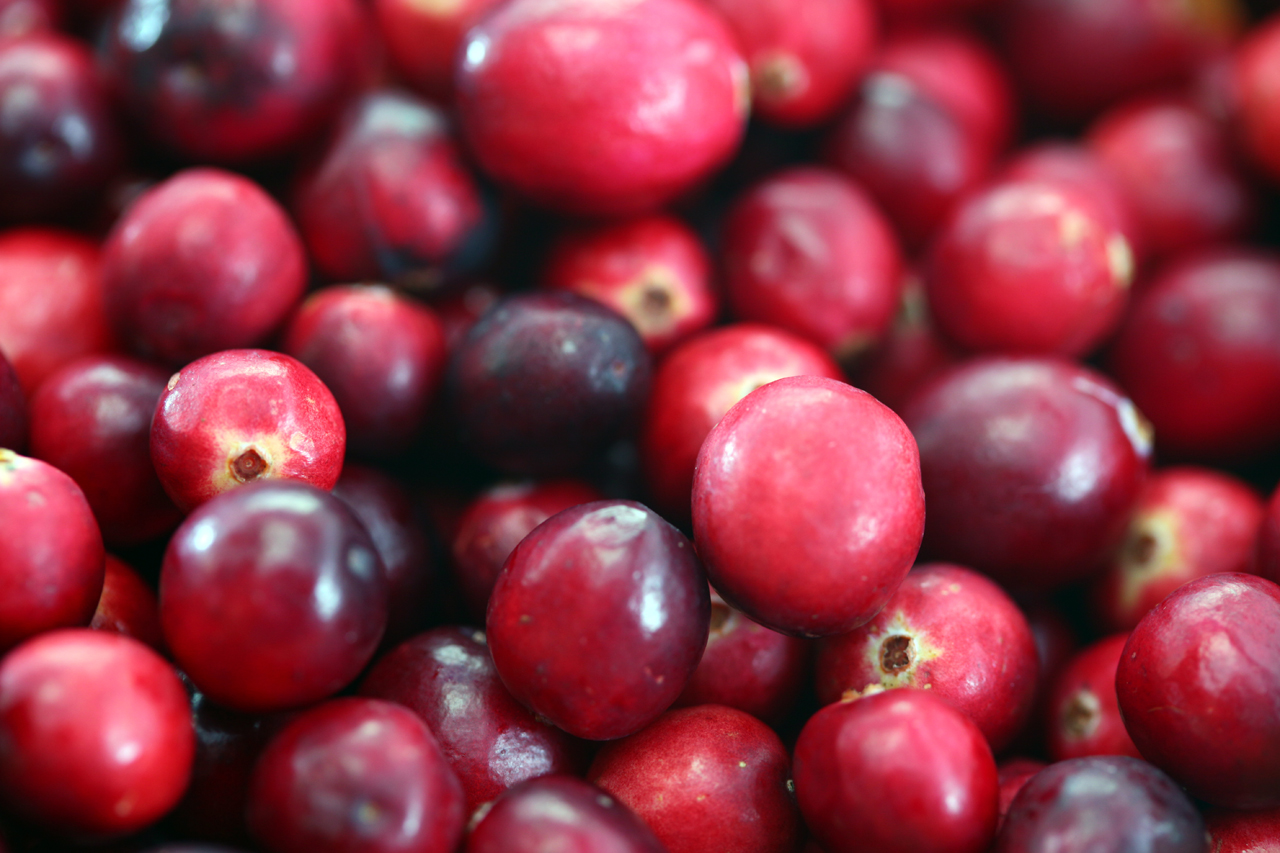 Cranberries for each vase, 1 pack fills 2 vases.
Available from most grocery stores in the run up to the Holidays.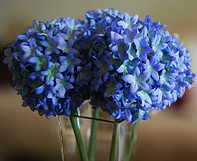 1 x Hydrangea for each vase
2 x Sprigs of Holly (free if you can find some growing locally)
1 x Sprig of Conifer branch (again free if you can find it growing locally)
Fruit Centerpiece On Platters
Another way to create a stunning fruit centerpiece is to have the fruit piled high in the middle of the table.
It is a good idea to have the display built on a tray or large plate as you can then transport the centerpiece to your venue already to go.
To create a pyramid of fruit you will want a sturdy base, place your fruit in the shape that you want the base and when you are happy attach the fruit together using either toothpicks or wire.
Next build the next layer and then attach it to the bottom layer in the same way. Keep going until you have created the look that you want.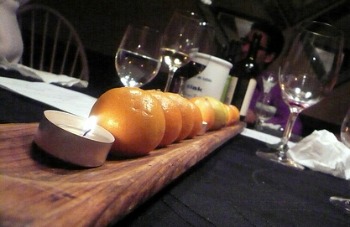 Photo by atl10trader
A very simple and modern looking centerpiece is to have the fruit along the center of the table in a line. I have seen this done really well with oranges and also red and green apples. You could also use mini gourds as a Fall wedding centerpiece.
These long wooden platters are available in Amazon and are described as either wooden dough bowls (these can be quite expensive) or the cheaper alternative are wooden trays, with the cheapest being baguette trays. 
It is a nice idea to add the leaves of the fruit to the display and add flowers as well if your budget allows it.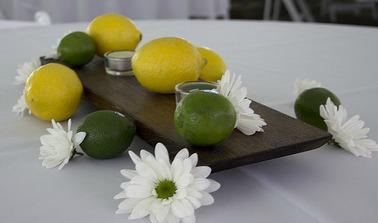 Photo by KitKatherine
To make the fruit look extra special you can add a sparkle by painting the fruit in egg white and then dipping the fruit in sugar, this looks even more stunning in the evening if there is candle light to add to the sparkle.
Fruit wedding centerpieces can also be created on cake stands, retro glass bowls from consignment shops, baskets and even in gift boxes.
Make sure you have a play with your designs before you need to create the real thing.
The beauty of having a fruit display is to that you can make it a couple of days before your wedding if you are using citrus fruits then keep them in a cold place if possible.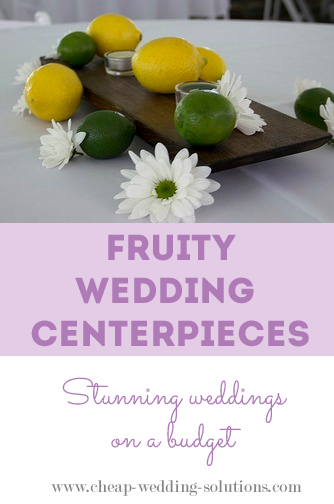 As an Amazon Associate I earn from qualifying purchases.
Other links on this site may lead to other companies that I'm associated with and this is how I can keep this site going and save you money on your wedding. 
Keep Up To Date With All The Latest Wedding Savings
top of page