Cheap Wedding › Centerpieces › Hydrangeas
Cheap Hydrangea Centerpiece Ideas
Find the cheap wedding ideas you are looking for:
A Hydrangea centerpiece is easy to make and fairly cheap, helped by the fact that the flower heads are so large you don't need many flowers to make a great floral centerpiece.
Hydrangeas are so easy to use, you can mix them with other flower varieties or use them alone, they can also be short or tall centerpieces.
Hydrangea Centerpiece Ideas
Starting with a single hydrangea, find a short square or cylinder vase and then cut the stem so your hydrangea sits neatly on the top of the vase.
Hydrangeas come in blues, pinks, reds, greens and whites, there should be a color that fits with your decorations. You can add an extra dash of color by tying a ribbon around the vase, and that is it.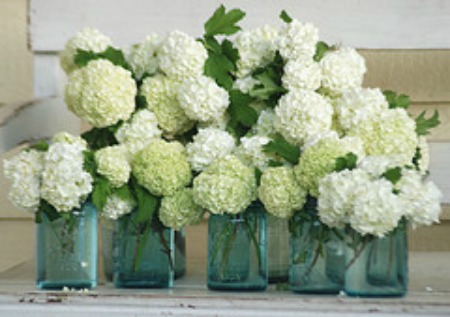 One of the reasons I love these flowers is that their flower heads are so large.
You don't have to do much in the way of arranging them, just pack them into the vase and you are done, there probably isn't an easier flower to work with!
Plus they are very fashionable at the moment.
If you have a large table then you can cluster a few of the vases together, use different heights for the vases to create more interest and add glass votives around the edge.

They also look great as a topper for your wedding cake.
Where To Buy Cheap Hydrangeas
The cheapest way to have a lot of hydrangeas for your wedding is to grow them yourself, however that could end up being a bit stressful.
The great thing about these flowers is that they grow on bushes which you can buy easily from home stores and plant centers and they are flowering best in the summer where I live.
Buy yourself a few of the bushes and you will have enough flowers to almost fill your wedding reception!
As an Amazon Associate I earn from qualifying purchases.
Other links on this site may lead to other companies that I'm associated with and this is how I can keep this site going and save you money on your wedding. 
Keep Up To Date With All The Latest Wedding Savings
top of page