Cheap Wedding

›
Centerpieces
› Color Schemes
Wedding Reception Centerpieces
On A Budget And In Your Color Scheme
Find the cheap wedding ideas you are looking for:
Choosing your wedding reception centerpieces when you have a distinct color scheme and limited money can be daunting, but it doesn't have to be. In fact knowing the colors can make this so much easier.
Start by working out how much money you have for your centerpieces and then divide that by the number of tables you have, if all the tables are the same size and shape.
If you have a long top table you may want to have more than one centerpiece so it is best to count the top table as two tables and then add the remaining tables and use that figure as your total number of tables.
Now think about your color scheme. If your colors are bright and you want them to make a big impact in the room you may want to think about colored linen. Quite often venues and caterers will not charge much more to hire colored linen for you so this could be an easy way to add your color.
Colored Table Linen
Another is to have table runners, these can be expensive if you buy them in a home store but if you buy a roll of fabric or tulle and turn them into table runners this would be much cheaper.
These purple reception tables had tulle table runners made from a large roll of tulle, which was also used for the chair sashes and they looked great.
Venues can also hire colored linen but quite often they will charge you more for it when it costs them very little to hire it in themselves. If you think the charge is expensive try phoning linen hire companies yourself to see the quotes that you can get. If they are cheaper pass the figures to your venue and ask if they will match them. And hold this thought when you are negotiating your linen costs venues I have worked for were able to hire additional colored linen for weddings and functions at no extra cost.
When it comes to the color of your wedding reception centerpieces you could use all the colors of your theme in one centerpiece so that every table is the same , or have alternating tables of each color so that the overall effect of the room is your color scheme.
Try and think of everything you can think of that is in your color scheme - however bizarre and think if it would fit as a centerpiece. Flowers, candles, candy, colored glass, bottles, plates - anything really!
Flowers
Flowers are the most popular way to add color for your wedding reception centerpieces and you don't have to have a big budget to have flowers at every table.
Cheap options are to have petals scattered on the tables with candles, or just a couple of expensive high impact flowers in an Eiffel vase or a bubble vase or submerged in a cylinder vase. Use the vases to help create stunning centerpieces with fewer flowers and without the expensive price tag.
Candles
Candles can add color to your centerpieces, just be careful as most colored candles are scented which could be a bit overpowering with lots of them in a large room. But a classic candelabra borrowed from your venue with colored candles and maybe petals scattered on the table would be a cheap centerpiece.
Edible Centerpieces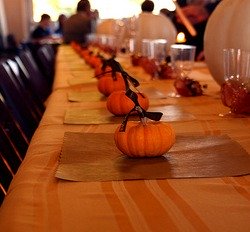 Photo by Justin D Miller
Candy at weddings is a big trend at the moment mostly with candy buffets but why not use candy in your color scheme for your wedding reception centerpieces. You could use glass vases or jars for each table and fill them with the colored candy. Not only will it look great, your guests will get a treat too!
Fruit and vegetables can also be a cheap way to add color to your reception tables. It could be a tall vase filled with lemons and limes, a cake stand filled with red apples, a row of apples or pears along the table. You can add sparkle to your fruit by painting egg white to them and then scatter sugar or edible glitter to the fruit.
Cheap Centerpiece Supplies
Adding color and decorations to your tables cheaply is so much easier if you can buy the items in bulk, all of the items below are available in lots of different colors.
As an Amazon Associate I earn from qualifying purchases.
Other links on this site may lead to other companies that I'm associated with and this is how I can keep this site going and save you money on your wedding. 
Keep Up To Date With All The Latest Wedding Savings
top of page