Cheap Wedding

›
Centerpieces
› Under $10
Wedding Centerpiece Ideas Under $10
Find the cheap wedding ideas you are looking for:
Wedding centerpieces do not have to cost a fortune, nor do they have to look tacky or a bit sparse on the decorations.
This is one of those times where you will need to be clever with where you spend your money.
Planning Your Centerpiece

1. Start by planning the centerpiece and think about the theme for your wedding. Even if it is just the colors or the style of your wedding, use these original ideas for your wedding centerpieces as well.
2. Next, go with the colors and write a list of everything that you can think about that is that color, however random it is and don't just stick with wedding stuff like flowers and candles, they will of course be on that list but think of everything that you can think about.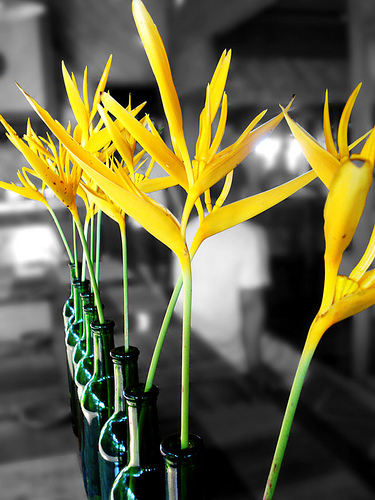 Photo by Gwacie
For example if your wedding colors were orange and chocolate brown your color list may be; oranges, carrots, pumpkins, roses, gerberas, orange glass, candy, orange sneakers, 1970's wallpaper and material, lentils, orange crayons, orange macaroons and then chocolate, cinnamon sticks, pottery, chocolate cake, branches, and fall leaves.
3. From that list and keeping an eye on your wedding budget you may want to source a lot of orange glass vases cheaply and have floating candles in the top, or you could have a cake-stand as a centerpiece and then arrange homemade or bulk bought chocolate truffles or orange macaroons as your centerpiece.
Money Saving Tips
For a more sophisticated look you may want to use tropical flowers - just don't go mad with the amount - one in a tall vase would look stunning. You don't have to use vases, instead think about glass jars or bottles that you could decorate.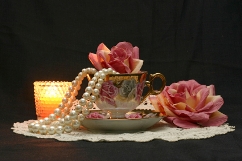 Flowers of any color look stunning but they don't just have to be in sensible arrangements, instead they could be submerged into tall cylinder vases with a floating candle on top. The flowers could be in a container and that doesn't mean a regular vase, it could be a cup, jug, a tin, a pumpkin or even a bottle (great for vintage style weddings where you can group old cola bottles, or old Apothecary glass bottles and have a single stem in each.)

And the same goes for candles they don't have to be in regular candle holders just make sure they are safe and if you are uncertain of the safety or the venue is then look at having the battery operated candles - they look realistic. You could use tins either completely filled with a candle or use tea lights, a bottle - just like in the rustic Italian restaurants, or pillar candles arranged on a vintage plate in your colors.
Very Personal Wedding Centerpieces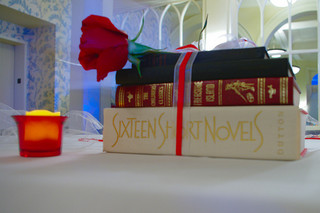 Photo by Fire Fly
Of course if you are both into a particular sport or hobby you could also use that for the base of your centerpiece.
This photograph showing the book centerpiece could be easily copied into your own wedding theme. A stack of your favorite books tied together with a ribbon in your wedding colors with a flower on the top. Perfect! And you probably have the books already?!

A great and easy football centerpiece would be to borrow a local college team's football helmets and then have them in the middle of the table - you could always tie balloons to them for extra height.

A golf themed centerpiece could be a pillar candle in a hurricane lamp with golf balls surrounding the candle.

A music themed centerpiece could be sheet music wrapped around a square vase with your flowers in the center, or old records (that are scratched and no longer good for playing) with candles arranged on top.

For disco divas getting married you couldn't go wrong with a disco ball at each table surrounded by tea lights. If they are too expensive you can pick up small disco balls at dollar stores and also old Christmas baubles. If you are using your hobby as your centerpiece, don't go completely mad with the theme, less is definitely more otherwise it will look over the top. Take one item from your hobby and design the centerpiece around it.
Vintage Centerpiece Ideas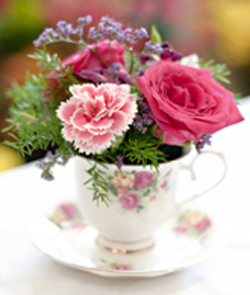 A step back in time is also a great wedding theme, if you have a favorite era for music and fashion then this could be for you here are some more unusual ideas:
A vintage set of mismatched teacups and saucers piled in the middle of the table with a flower floating in each.

Sixties and Seventies colored glass with candles for vintage lovers.

Tin tea caddies filled with wild flowers.
Top Tips For Cheap Supplies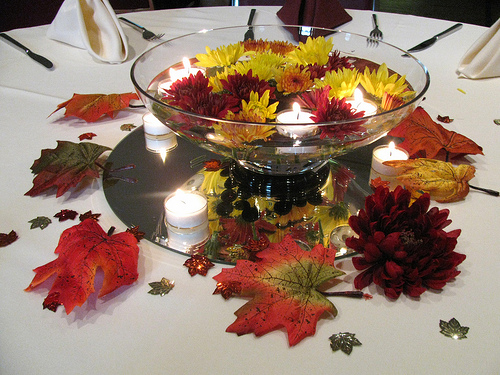 When I am looking for cheap supplies I look first to see if I can get the items I need free, or if I have them already. And by free I mean is there a regular day to day item that I can upcycle like a jar for a vase, or a plate as a cakestand.
Also have a look to nature and see what is growing around you that you can use. It could be as simple as leaves to scatter on the tables as in the photo above or larger branches for you to turn into trees in pots and decorated with Christmas lights.
If you still need to buy items, work out your budget and know how much you can spend on each table's centerpiece. Keeping it under $10 will be tricky when you get the store selling all of those pretty wedding things that you would love to have!
Take a look at your local dollar store, thrift stores, and garage sales. Plus have a look at these wholesalers as the prices are very good.
Beau Coup - Lots of great discounts on their centerpieces
Koyal Wholesale - wholesale wedding supplies
Luna Bazaar - Wedding Centerpieces
Amazon - Centerpiece supplies
Ebay - Centerpiece Sellers

As an Amazon Associate I earn from qualifying purchases.
Other links on this site may lead to other companies that I'm associated with and this is how I can keep this site going and save you money on your wedding. 
Keep Up To Date With All The Latest Wedding Savings
top of page