Cheap Wedding › Flower Centerpieces › Plants
Wedding Table Centerpieces

Ideas To Save You Money
Find the cheap wedding ideas you are looking for:
Flowers don't have to always be in a vase to look stunning on your wedding tables. Instead, think about using small flowering plants, they look great and if you buy them in season they are relatively cheap.
Plants to look out for are; Daisies, Chrysanthemums, Violets, Roses, Gerbera Daisies, Heather and Poinsettias at Christmas times.
And just like choosing your flowers for your wedding you can chose the plants by color.
Photo by beckerst
Photo by quimpg

Don't just think about flowering plants as herbs and succulents are really popular at the moment. Plus they don't need need as much looking after! This is a big bonus just before your wedding! You could get these plants ready weeks before and with a minimal of fuss they will be fine for your day.
What I love about plants is that they make great gifts for your guests too.
Photo by cuttlefish
You can use terracotta plant pots for a rustic or natural wedding and then if you want a bit more pizzazz you can tie a ribbon to the pot or even use a decorative piece of cloth and wrap it round. Paint the pots to match your colors and have them dotted around the ceremony or reception room too.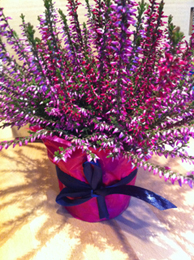 As an Amazon Associate I earn from qualifying purchases.
Other links on this site may lead to other companies that I'm associated with and this is how I can keep this site going and save you money on your wedding. 
Keep Up To Date With All The Latest Wedding Savings
top of page