Cheap Wedding

›
Floating Candles
› Bowls
Inexpensive Floating Candle Centerpieces
Find the cheap wedding ideas you are looking for:

This is a perfect centerpiece for a round table as it is round itself. You will need a round bowl preferably shallow then all of your guests will be able to see the candles and other decorations. You can however use any type of bowl and there maybe a better style for your wedding theme.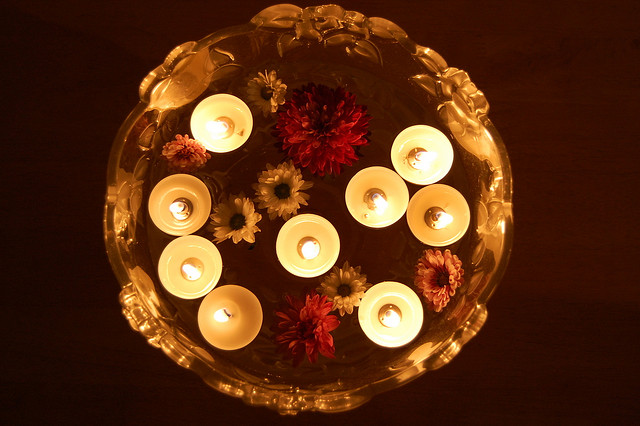 Photo by siddharthav
Vintage glass bowls from a thrift store are relatively cheap to pick up unless they are crystal and then you will be paying more. You could use pottery bowls for a rustic or mediterranean style wedding.
To save money it may be worth asking family and friends if they have decorative bowls that you can use. Then if you need more you could buy them from a thrift store or hunt them out at yard sales.
There are of course bowls that have been specifically designed for floating candles, they are good in that they are the perfect height and simple enough that you can add your own touches. Plus if you hunt around you can find them at reasonable prices.
Add your wedding colors by having glass pebbles in your color or have colored candles.
Photo by Asian Pacific American Heritage
You can also have petals floating on the water, the petals can either be silk or fresh and both would look lovely. The silk petals are great if you need to transport all of you wedding items a long way or you want to set up the day before. Fresh petals do look lovely but they will need to be chilled the day before or delivered on the day, which is fine if someone is setting up for you but not great if you are doing this yourself. Don't bother with freeze dried petals for floating in the bowl because as soon as they hit the water they will take on water and therefore not be dried any more!
If you feel that your bowls are too small you can increase the overall look by having petals scattered around the bowl and table or have tealights or pebbles around the edge. This will make the table look much more decorated and not just focused on the middle.
When you are designing your centerpiece it is worth costing everything out before you start buying all the individual pieces to ensure everything fits within your budget.
Also, if possible ask your venue if you can set up one of your centerpieces on their tables so you can see how it would fit, is it large enough? And how does it look in the room that you are using?

As an Amazon Associate I earn from qualifying purchases.
Other links on this site may lead to other companies that I'm associated with and this is how I can keep this site going and save you money on your wedding. 
Keep Up To Date With All The Latest Wedding Savings
top of page