Cheap Wedding

›
Centerpieces
› Table Numbers
Inexpensive Wedding Table Numbers
Find the cheap wedding ideas you are looking for:
Wedding table numbers are important if you have decided to have a table plan as it makes it easier for your guests to find where they are sitting.
And if you have decided to name your tables rather than number them then they will add to the overall table decoration and theme of your wedding.
The cheapest table numbers and number stands are to ask your venue or caterers if they have them for you to use, if they are a professional company that also caters for corporate functions they will have them.
Do not let them charge you to use them as they wouldn't if you were holding a business event.
Even if you have decided to name your tables you could use their number stands for your table names as they will be the right height.
Height is important for table numbers if you have a lot of tables and a big room as the whole point of them is so your guests and the serving staff can find the right table easily.
If you are having a more intimate wedding you can get away with shorter table numbers, just make sure they are easy to see.
If there are only a few tables then you could easily not have the table numbers and instead have your groomsmen seat your guests, or have your table plan laid out almost like a map!
However, table numbers can add to your table decorations and if you do end up buying them they don't have to be too expensive.
They can be under $1 each
Cheap Wedding Table Numbers
If you are unable to borrow or buy table numbers then there are a number of ways to make them yourself.

Wine Bottle Table Numbers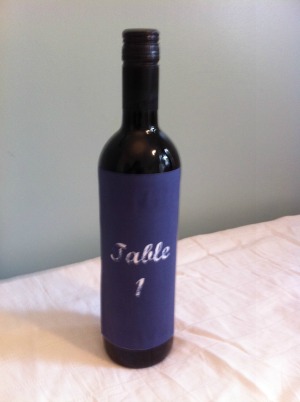 This is a really easy to do, however if your caterer is providing the wine you will need to have a chat with them as to when you can collect the wine bottles to stick on the numbers. You will only need a couple of bottles for each table so don't worry about taking over your home with wine bottles.
You could ask your caterers to do this for you but it may cost you and you know they probably won't do it as well as you!
For the wine bottle in the photo I have created a label of 9cm width x 17cm height as this covered the original wine bottle label.
You don't need such thick card for this, have used paper to print the number as the card was too thick to stick around the bottle. This way I was able to use kids glue to stick the label to the bottle.
Picture Frames For Table Numbers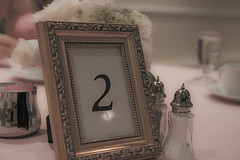 Love this idea as you can then use the frames after your wedding to display your wedding photos, so buy them wisely!
Or you could gift them to your wedding party with a photo from your wedding day as a lasting momento from your special day.
You will need...
Paint Table Numbers Onto Paper Lanterns

If you are worried your painting may not be perfect then look at using transfers or stencils, stamps would end up being expensive as you wold need 10 different stamps (0 to 9) to create every number!
Centerpieces
Paint the numbers onto the vase, pot, bucket or whatever you have decided to use as your centerpiece.
Again transfers or sticking the numbers on to the centerpiece will be better than a wobbly hand!
You can print the numbers you need at home using your own word program and they will come out nice and crisp. You should be able to fit 2 numbers per sheet of paper and try and go with as thick paper as your printer can handle.
Or you could use one of the many online graphics programs that are now available. I have used the free tools at PicMonkey to create the graphics for the table numbers in the photos.
Card Table Numbers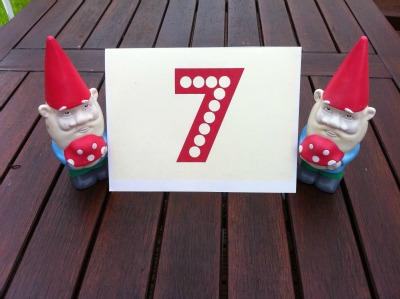 This has to be one of the cheapest ways to make numbers, just print your numbers and stick them to card and prop them up on your tables. You could turn them into covers for menus or add a welcome from you both inside.
Photographs
A recent trend at the moment in table numbers is to use photographs of numbers or photographs of you both holding numbers.
You could take photos of house numbers, road signs around your town or a place that is special to you both. You could make the numbers out of items; cakes for an afternoon tea reception, flowers for a garden reception.
You could also have your wedding party involved in holding the numbers in the photos which would make it a fun activity for you all before the big day.
Who would have thought table numbers could be this involved?!

As an Amazon Associate I earn from qualifying purchases.
Other links on this site may lead to other companies that I'm associated with and this is how I can keep this site going and save you money on your wedding. 
Keep Up To Date With All The Latest Wedding Savings
top of page