Home > Reception > Table Setting
Wedding Reception Table Setting Ideas
Find the cheap wedding ideas you are looking for:
A wedding reception table setting is your guests' space at your wedding and a chance for you to welcome them and thank them for sharing your special day..
At a minimum, a place setting will have the cutlery, glasses, side plate and napkin that your guest will need for the wedding breakfast, how you set them out and the extras that you add will make it special.
Most wedding tables will have a centerpiece and then from there you will want your place setting to co-ordinate with the rest of the reception decorations, but don't worry you don't have to spend a fortune; here are some great inexpensive ideas.
Napkins
Starting with the napkin; you could have them in your wedding colors or white, both can be hired from linen hire companies for not much per napkin and your venue should include that in the price. And then have a chat with your caterer or grab a book on napkin folding and think about the style that you would like. Modern napkin folds are flat and you could tuck a name card, personal note or flower into the folds. More traditional napkin folds are a crown or a classic fan, just remember if you are doing these yourself the more complicated the folds the longer it will take to put together. If you are hiring your napkins yourself then it is a good idea to order a few more than you need as a buffer as not all of the napkins will be perfect to fold.
Or if hiring is not an option where you are then here are a couple of cheap buying options.
Cotton Placemats And Napkins On A Roll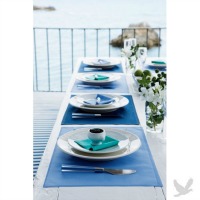 A new innovation for place settings are these cotton napkins and placemats which come in over 30 colors.
You can wash and resuse them up to 6 times before you would have to throw them away.
They are more expensive than paper napkins but if you wanted linen then this is one of the cheapest ways to get them.
More information at Koyal Wholesale.
Colored Paper Napkins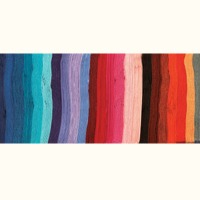 Nearly every color you can think of is available from Koyal Wholesale and the prices are very reasonable.
Paper napkins are a real saving on linen and if you coordinate your tables similiar to the picture of the pink and green wedding table then they would not look out of place.
Charger Plates
A number of wedding reception table settings have a charger plate under the napkin which does look smart but if you are paying for the hire or buying of your crockery this would be a great place to make a saving. Very few weddings will have the meal silver served so the plate will act only as a liner and the starter will be placed on top of it on its own plate. If you have your napkin in the middle or your guests' favor then this would also distinguish the place setting without the additional expense.
However you can buy charger plates for $5.99 and less if you want to buy in bulk. For a wedding you won't just be buying the one so it would work out cheaper!
Table Decorations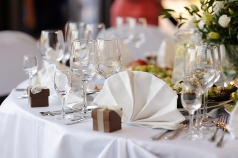 You can add a number of decorations to your napkins to make your wedding reception table setting stand out; country weddings could have herbs, flowers and in the fall and winter leaves.
Each season and wedding theme lends itself to adding a finishing touch to each place setting.
Christmas weddings and a Christmas bauble with your guests name and then the wedding date and your initials or a mini poinsettia or holly sprig - maybe even some mistletoe! Glass votive candles also add a magical touch to a place setting.
Spring weddings and you have a great choice of spring flowers in mini pots.
Summer weddings and you could have flowers or petals, if your wedding is beach themed then shells or mini seaside decorations would add to your overall look.
Fall weddings and you could have fruits, autumn leaves, and chocolates - you could have these anytime of year but they are great at adding fall colors to a table!
All of these extra bits on the wedding reception table setting could easily be your favors, add a tag with your guests name and then they are also your place cards as well.
Favors do work really well as part of the table setting, it could be a favor box with your guests name on acting as a place card as well.
Placecards are not a necessity at a table, even if you have a table plan as quite often your guests will changeover who they are sitting next to!
Don't overdo the decorations as it can get a bit crowded on the table and then there won't be so much room to enjoy the company and the food!
As an Amazon Associate I earn from qualifying purchases.
Other links on this site may lead to other companies that I'm associated with and this is how I can keep this site going and save you money on your wedding. 
Keep Up To Date With All The Latest Wedding Savings
top of page