Cheap Wedding › Centerpieces › Candle
Inexpensive Wedding Candle Centerpieces
Find the cheap wedding ideas you are looking for: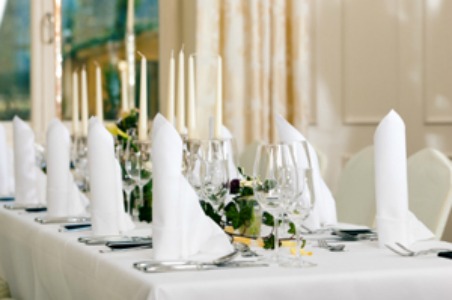 Wedding candle centerpieces are a great way to add sparkle and glamour to your wedding tables and the best bit is they don't have to be expensive.
If you are holding your wedding reception at a big venue it is an idea to ask if they have candle holders and candles that you can use for free. Most big venues will provide these things if they were holding a dinner dance so it makes sense that they would also have these for your wedding, quite often though this won't be mentioned if you are planning a wedding!
The biggest expense with a candle centerpiece is quite often the candle holder, but you can find these fairly cheaply in dollar and thrift stores. Don't just go with a standard candle holder as there are lots of normal everyday items that you can use that would look stunning as your wedding centerpiece.
Floating Candle Centerpieces
Floating candle centerpieces are great if you have round tables for your wedding guests as you can use a round bowl and have your floating candles on the top. You could have petals also floating in the water for added color and to coordinate with your wedding flowers.
You can use a number of different bowls to create great floating candle centerpieces, they can be fruit bowls that you already have or you could find colored glass bowls in thrift stores.
As well as bowls you can use a group of different colored wine glasses or vases, you could even use a teacup.
Pillar Candle Centerpieces
Pillar wedding candle centerpieces are a bit more expensive but you will only need a maximum of 3 candles per centerpiece and it looks better if they are of different heights.
Although you may have spent more on the candles the candle holders will be less as you need very little to hold a pillar candle. You could place the candles on a plate, a platter, or a mirror tile.
To add extra color you can scatter decorations around the centerpiece. Decorations could be; petals, shells, favor boxes, ivy, leaves, and anything that fits with your theme. You don't have to add extra decorations as you could have the color added to your table with colored candles, or a table runner or colored linen.
Tealights Or Votive Centerpieces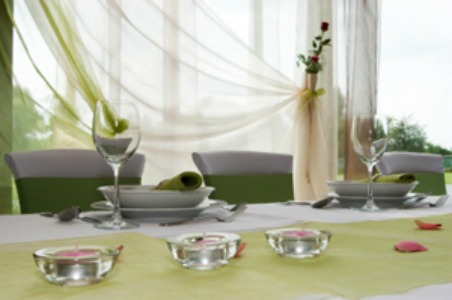 A row of tea lights on a long table or a circle of them on a round table looks good, and is cheap! You can buy really pretty glass votives or you can make your own!
It really isn't hard as you can use a number of things to make them. A personal favourite is a glass jar with a paper doily stuck to the outside, or it could be a tin can with a pattern punched out, a glass jar with a ribbon tied round the middle, a glass jar with twine tied around the top for a rustic wedding or a wine glass.
If you have a really long table you could have a candle in a jar and then a same sized jar with flowers in them and keep repeating the pattern along the table.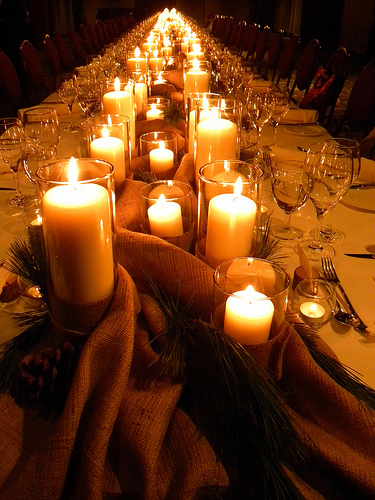 There is something magical about using candles as centerpieces, especially in the evening when you can have the candles as the only light, you could be anywhere and it will save you a fortune on a fancy venue or lots of decorations. Turn the lights down low and enjoy the beauty of candle light.
One word of warning is that candles can be dangerous so it is a good idea to talk with your venue to make sure they are happy for candles to be on the tables. If they are not then think about using LED lights instead as they also give that magical sparkle!
As an Amazon Associate I earn from qualifying purchases.
Other links on this site may lead to other companies that I'm associated with and this is how I can keep this site going and save you money on your wedding. 
Keep Up To Date With All The Latest Wedding Savings
top of page