Home > Centerpieces > Trees
Make Your Own Wedding Tree Centerpieces
Find the cheap wedding ideas you are looking for:
Trees, or more accurately branches, make fantastic wedding centerpieces as they have a wow factor. Plus they are cheap and easy to make yourself.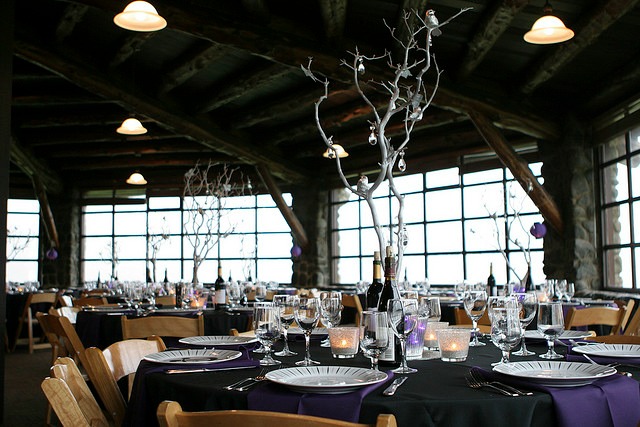 Tree centerpiece by Lauren Wiest

You will need;
Branches shaped like trees, go for home grown, free ones, if you can. If not, you can order branches online, but before you do, think about how high you are going to need your branches to be. I think 3 feet would be the maximum, otherwise you are going to need pretty big pots to balance the weight of the branch and stop them toppling over. Also, take a look at the height of your reception room.
Stones and Expanding foam to secure your branch.
Terracotta pots – they are cheap and weighty.
Spray paint – if you want your branches and pots painted.
Old newspaper
Decorations to hang on the branches
Covering for the base - ribbons, glass beads, moss
And an extra pair of hands!
How To Make Your Own Tree Centerpieces
Start by spray painting all of your branches, this is easiest if you have an open space where you can lie them all down on old newspaper. When one side is dry turn them all over and spray the other side.
At the same time spray paint all of your pots.
When everything is dry you can start putting your tree centerpieces together.
Have your extra pair of hands hold the branch where you want it to be, then place stones around the branch to hold it in place.
Next is the fun and slightly dangerous part! You are going to use the expanding foam to make sure your branch never moves. Please make sure you read all of the safety instructions for the foam as this stuff can get very messy and it's a nightmare to get off. You won't need as much of this as you probably think – it does what it says on the tin and expands.
Fill your pots with the foam and let it dry.
Now you can add your decorations.
Centerpiece Decorations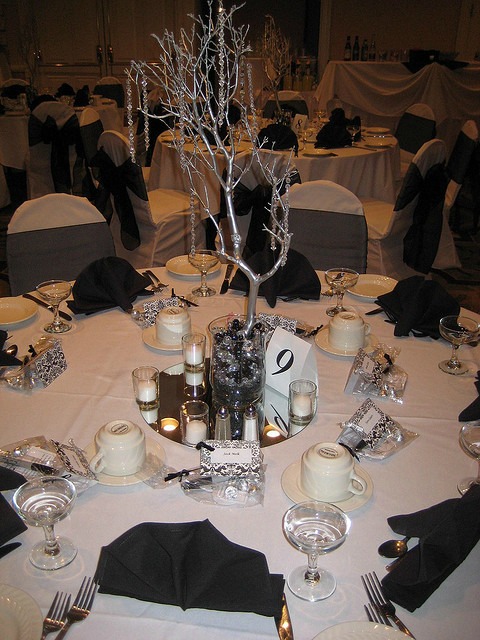 Photo by Meringue Bake Shop
This stunning black and white tree centerpiece looks great sprayed in silver. The colored glass beads add to the overall theme and the beads hanging from the branches will give an extra sparkle when the candles are lit.
Your tree branches could also be kept natural, gorgeous fall colors in the Autumn and blossom in the Spring.
As an Amazon Associate I earn from qualifying purchases.
Other links on this site may lead to other companies that I'm associated with and this is how I can keep this site going and save you money on your wedding. 
Keep Up To Date With All The Latest Wedding Savings
top of page