Cheap Wedding › Centerpieces › Sequin
Sequin Wedding Table Decorations
Find the cheap wedding ideas you are looking for:
There is a lot of sparkle when it comes to weddings and none more so than the latest trend of blinging your reception tables too! And they look fab.
It is definitely the time to spread some extra glitter around.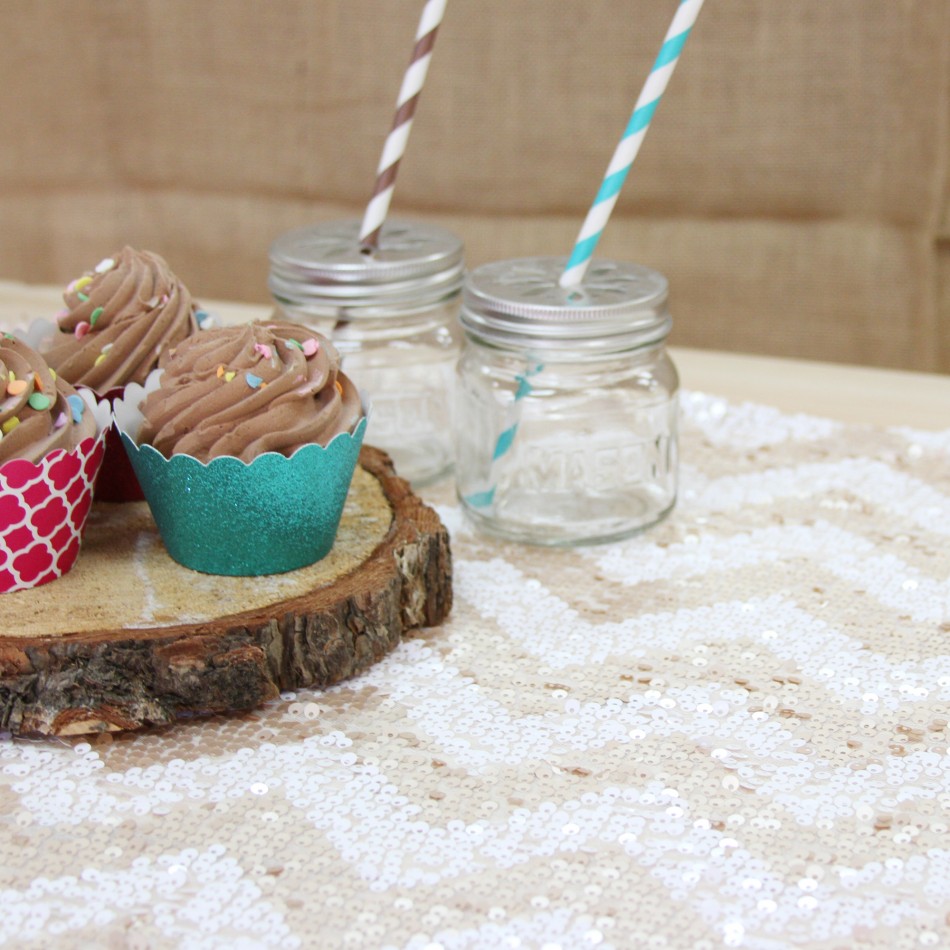 Sequin Table Runner from Koyal Wholesale
If you want a full on wow look then you will need sequin covered table runners or tablecloths, these work on both long and round tables just as well. With that kind of statement you don't need a great deal of other decorations on your tables, so in a way you have a saving straight away. If you want to save money, have a look at using glitter tulle on your tables instead, it is a lot cheaper than sequins. 
If you are one of those organized types then start shopping for everything that sparkles around Christmas time or just after, when the sales are on. You should be able to find lots of glitter and sequin covered decorations that will look fab for your wedding.
Rather than having full on sequin table runners why not have a more subtle look with embroidered runners, I have seen lots of stunning examples in Indian and Thai shops, again these are not so expensive when you think about how much wow they will give your room.
I know of one bride who used Sari material to decorate her tables and it looked amazing, lots of gorgeous colors and designs.
If you want to add more sparkle to your tables then you definitely need candles as they will make everything shine even more. For a long table you could have a sequin runner with glass votives dotted along the table. For a round table how about using a floating candle centerpiece so you can create sparkle all around the table.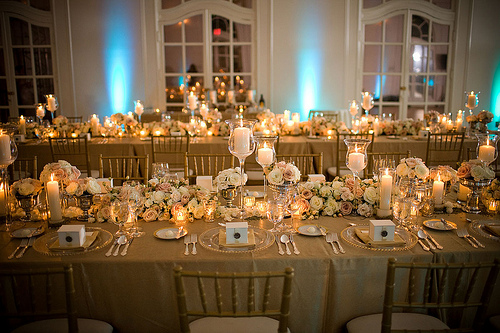 Mirrors I know have been around for a long time on wedding tables but you could bring them right up to date by adding lots of glitter and sequins and possibly table confetti too, if you need extra sparkle. Plus candles!
I have also seen a lot of brides having glitter encrusted wine glasses and toasting glasses at their weddings if you want to add extra bling. There are a number of people offering to glitter your glasses for you on facebook, it is something you can do yourself with a lot of glitter and modge podge which is a type of glue, and you will also need glasses too!
You don't have to have a full on sequin table, instead have subtle sparkles with sequin favor bags or a sequin/glitter ribbon tied around candles or vases and jars on your centerpiece.
The best bit is you can have sequins, glitter and sparkle in nearly every color there is, it is not just silver. So if you have already decided on a color scheme for your wedding them you could add extra sparkle without having to change everything. That's important if you have already picked your wedding invites and bridesmaid dresses.
A touch of sparkle or full on bling, which look are you going for?
As an Amazon Associate I earn from qualifying purchases.
Other links on this site may lead to other companies that I'm associated with and this is how I can keep this site going and save you money on your wedding. 
Keep Up To Date With All The Latest Wedding Savings
top of page