Cheap Wedding

›
Floating Candles
› Wine Glasses
Cheap Floating Candle Centerpiece Ideas
With Wine Glasses
Find the cheap wedding ideas you are looking for:

As well as the conventional containers of vases and bowls for a floating candle centerpiece you can also use anything that will fit the water and a candle. You can buy oversized wine glasses and cocktail glasses that have been made for centerpieces or you could have a look around for the comic wine glasses that you find for major birthdays these may be cheaper and you will quite likely find them in garage sales.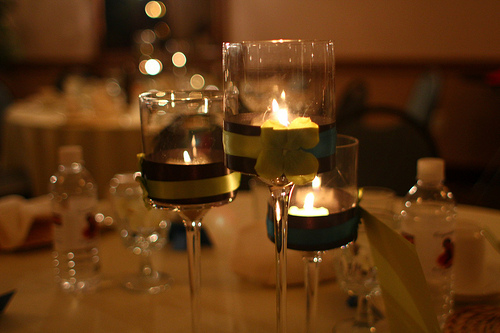 Photo by Wait Scm
If you want a uniform look to all of the tables I would go with the centerpiece wine glasses. You can also buy them in different heights and they can also be bought in sets. Having the glasses at different heights make the overall centerpiece look much more interesting and the floating candles will then shine at different heights.
You can decorate the glasses with coordinating ribbon, or have colored pebbles in the base, or keep it simple and have a single flower in each glass.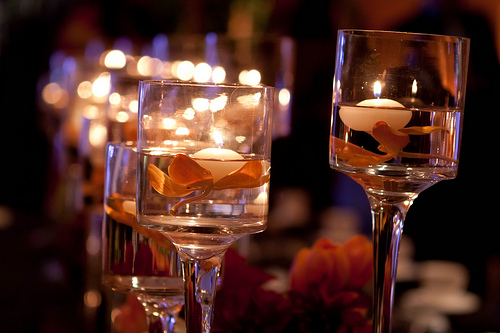 Photo by R Savvy
For a stylish evening reception you may want to have a look at LEDs for the base of the glass. These look great in an oversized martini glass with the floating candles on top.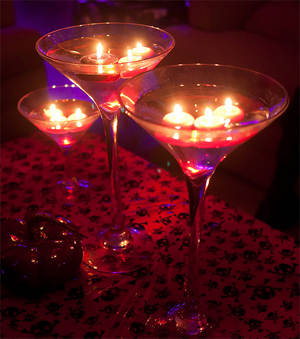 Photo by Toasty Ken
For a round table you will want either one very oversized glass surrounded by smaller glass votives or a group of 3 glasses. For a long table you will want to have the glasses along the tables, if they are small glasses have one between 4 people or if that is working out too expensive have a wine glass with floating candle at either end of the table and then have other decorations maybe candles or petals along the table as they are cheap.

As an Amazon Associate I earn from qualifying purchases.
Other links on this site may lead to other companies that I'm associated with and this is how I can keep this site going and save you money on your wedding. 
Keep Up To Date With All The Latest Wedding Savings
top of page