Cheap Wedding

›
Centerpieces
› Tulips
Cheap Tulip Wedding Centerpieces

Find the cheap wedding ideas you are looking for:
Tulip wedding centrepieces are perfect for a Spring wedding as they are in season, they are part of the beginning of Spring.
Cheap Tulips
True you can buy tulips most of the year and they are a much cheaper alternative to roses at Valentines and at other times of the year, but they are even cheaper in Spring as you can grow your own!
And there is very little to it, apart from being organized, just pop in the bulbs October to December the previous year and by Spring they will be up and flowering.
Of course that doesn't guarantee that they will be perfect, it might be an idea to have a wholesale flower seller ready to deliver in case of an emergency!
Photo by Dame Catoe

Cheap Tulip Wedding Centerpieces
Once you have your tulips, you are ready to start creating your tulip wedding centerpieces. And there is one important thing to note when you are using tulips - they do droop! I think that adds to their charm and you can work with their natural droop to create really stunning displays or there are ways to avoid the droop altogether.
When you design your centerpiece it is important to take into account the size of the table and the room.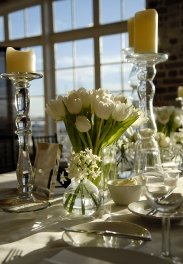 A long rectangular table will look good with short tulip centerpieces, these you can create in a long rectangular vase and cut your tulips so that just the flower head is above the top of the vase. Or for a pretty homemade look you could use tin cans or jars filled with tulips again cut to just above the top of the container. Tea cups and jugs would also look great as vases if you have a vintage themed wedding.
If you have large round tables then taller tulip wedding centerpieces would look great. To avoid the tulips drooping you could have taller vases and then cut the tulips so that the head of the flower will be just below the top of the vase. But a big vase of tulips as the centerpiece to each table will look great, pack your tulips in tightly and make sure you keep the leaves as they add to the look.
You can have tulips all of the same color, white or a color to match your theme or have a bright mixture of colors to celebrate your wedding and Spring is on its way. Red tulips look great at a Christmas or Valentines wedding and they are cheaper than roses. White tulips are perfect for a white wedding, and you can get tulips in most colors.
If you are having your bouquet made with tulips then they are beautiful in a hand tied bouquet which you could then use a centerpiece for the top table if you have a vase waiting for you.
Here are some cheap and lovely vases that would enhance your tulip centerpieces.

As an Amazon Associate I earn from qualifying purchases.
Other links on this site may lead to other companies that I'm associated with and this is how I can keep this site going and save you money on your wedding. 
Keep Up To Date With All The Latest Wedding Savings
top of page